A Room of One's Own: Jessie Cutts on transforming her living room and finding romance in architectural ruin
The textile artist's living room is a calming sanctuary amongst the ongoing renovation works taking place in her Kent home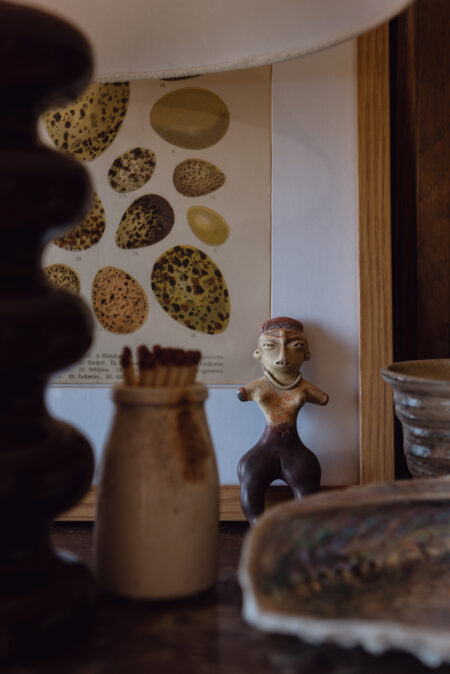 "I always fall in love with old, broken-down things that need a lot of work," Jessie Cutts, founder of slow-stitch textiles company Cutts & Sons, tells us. However, when she and her family moved from their three-bed house in London into a decaying Georgian terrace on the Kent coast, she unexpectedly found herself less than smitten with their new home: "The kitchen and dining room were initially okay, but the further you went up the five floors, the more derelict and terrible it became", she says. Jessie and her husband embarked on a top-to-bottom renovation of the house, candidly documenting each step of the process on a now-popular Instagram account, @townley_terrace – named after the building's original architect, Mary Townley.
The spacious living room was one of the first rooms to be finished, but it was by no means an easy fix – from having to carefully work around fragile period features to hunting down furniture design classics on eBay, Jessie has strived to carry out a cost-sensitive revamp of the space that is both authentic to their aesthetic tastes and to the history of the building. Below she shares more on the design of the living room and how the ramshackle space became a serene spot for herself, her husband and their two children.
"It took weeks, and weeks – and weeks! – of work to get it back to being usable."
"To be honest, I didn't want to buy this house. I said: "It's too broken, too big, and we don't need all that space." But my husband thought, if we're going to move, we want to move somewhere that's special and worth our while – he wanted to live in an amazing house. So, we moved here.
"The living room had holes everywhere. There was half-peeled-off wallpaper that had gone brown. There was also water damage where part of the ceiling had come down – it was pretty bad. You look at it now and think "oh yeah, you've painted it", but it actually took weeks, and weeks – and weeks! – of work to get it back to being usable.
"It had these horrendous aluminum doors, which we immediately pulled out. The previous owners had salvaged some original doors from another one of the terraces, so we took those and stripped them, put them back in, and built windows to match. We didn't want to touch the original lime plasterwork in the living room because it was quite fragile – plus, the ceilings are around 3.8 meters high, so to re-plaster would have been quite an undertaking. So, instead of pulling all the wallpaper off, we very, very carefully stuck all the holes back together and repainted over the top – we couldn't have messed around with it too much. Some of the original cornicing had come down too, but we propped it back up.
"The original floorboards are in there too; these amazing, wide Georgian floorboards made from Baltic Pine. We sanded them really gently and left them with no varnish. We've also got these fantastic original cast-iron radiators throughout the house, but the ones in the living room were completely chipped and all the paint was coming off. We were going to paint them, but then we looked at them and realised they looked good as they were.
"My husband and I both have quite an innate sense of what goes together."
"When we moved in, all our London furniture looked ridiculous, like tiny doll's house furniture. We ended up getting a sofa that I probably would never have chosen otherwise: it's a design classic by Robin Day that Habitat started producing in the Sixties. We spent a year trying to find a sofa that we could agree on, then I saw this one somewhere online and thought it looked okay. We searched for it on eBay and I found one for £400; the bid was ending in an hour so I thought "let's just buy it!" The seller said we could pick it up the following day. We didn't have our van, so we took the kids in our tiny Golf up to London – getting lost three times along the way – and drove it back, strapped to the roof. And now we've got a great sofa that didn't cost £3,000.
"Almost everything is secondhand, as we've tried to buy things that are timeless and not too trendy – just things that we really love. For instance, when we replaced the doors, they weren't as air-tight as modern doors and there was a bit of a draft, so we had to get these long curtains. I spent six months on eBay trying to find two pairs of curtains that would match. Then I spent another month adjusting them because they were really long. Curtains of that size would normally cost almost £2,000. They're not a colour I would ordinarily have chosen, but somehow they work. My husband and I both have quite an innate sense of what goes together, without over-doing it.
"The previous owners had told us that they didn't believe in overhead lighting."
"As the living room is so big and the ceilings are so high, it could've easily felt quite cold. The previous owners had weirdly told us that they didn't really believe in overhead lighting, so there weren't any lights in here. We thought we'd wait and see if we wanted to put them in, and we've actually decided it's alright without them. We have lots of sidelights instead, which definitely makes the room feel much more cosy.
"It's very much a relaxing space, and it stays relatively tidy, especially since we finished the playroom two months ago. The kids used to bring their toys in, but I just needed a space that was nice to spend time in; now they will come and watch TV in here instead, or my husband and I will sit here in the evenings. As the back part of the room is my studio, we've positioned all my mess so that when you sit on the sofa, you don't see it. Although admittedly at the moment there is a quilt laid out in the middle of the floor!
"I'm like a magpie – I buy random bits and bobs from all over the place."
"I've traveled a lot, and I always pick stuff up along the way. I'm like a magpie – I buy random bits and bobs from all over the place. In this room, there is a big artwork which I bought for my husband's birthday a few years ago; it's by an amazing Australian photographer and it was fairly expensive. However, I've also got stuff that I've found at car boot fairs, paintings which I've bought for £2, and so forth. I love buying art; I grew up in a house where I was surrounded by it and my own home doesn't feel right unless it's filled with lots of interesting stuff.
"I love the stories that are attached to them as well – there are shells that my dad picked up on beaches when he was a kid, shells that I found when I was a kid. Chairs that I've brought home on the Eurostar. I'm that person who will always come home from a trip somewhere and insist on carrying some random, tiny thing in a special bag.
"My friend's mum who's an interior designer came to visit, and she said, "you need to be careful with this place so that you don't lose the romance of a derelict building". I thought that was really interesting. We're going very gently with it, not too quickly. Someone could've just gutted the place, renovated it in six months, and had it move-in ready – but then something about the house would have been lost."
Further reading
Townley Terrace on Instagram