Inspiration of the Week: monkish business in a Hackney coach house
There's a markedly monastic air to this brick-fronted home in east London – a sophisticated reminder that simple doesn't always mean spartan. Survey its cloistered quarters and you'll see why we've named it this week's most inspirational listing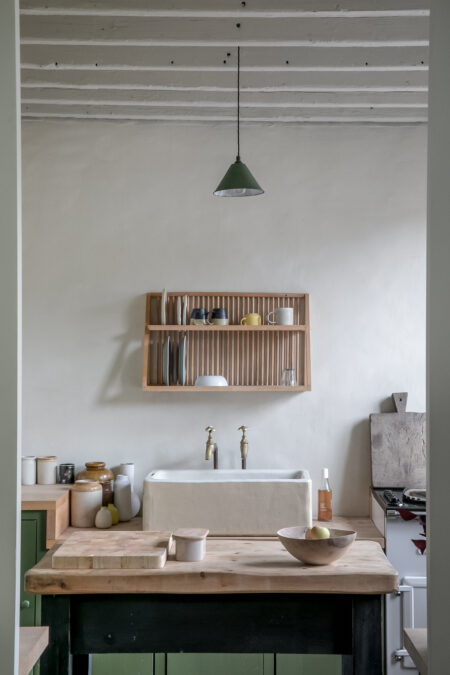 Is there such a thing as a holy trinity when it comes to historic homes? While we try not to be too dogmatic about these things – good design is our broad church – we'll go so far as to say that, in our books, a combination of height, light and sensitive decoration makes a tasteful trifecta. With that in mind, the Coach House, in east London and currently on the market with us, seems to answer our prayers. Blessing it with Inspiration of the Week status, we invite you to take a tour of its thoughtful rooms.
The house, built in the mid-19th century, was likely designed for Hackney carriages. The clatter of hooves and sallies of stableboys are a distant memory, however; today its rooms feel hushed and contemplative, thanks to its pared-back palette and the use of unpretentious materials like linen, wood and leather. Treading the line between ascetic and austere, the decoration is an exercise in restraint, a masterclass in monastic living. Yet thanks to the generosity of the ceiling height in many of the rooms – notably the main living space and the kitchen-dining areas – the overall effect is one of serenity rather than severity.
It helps that there's a celestial amount of light in the place. Large windows, both on walls and overhead, and internal glazing lend a brilliance to spaces that could otherwise feel plain. For this is a house without frills. Decorative distraction is kept to a minimum – the odd plant here, a daub of moss or woadish blue there – in order that the fabric of the house feels at the fore (we particularly like how the painted brick lends gentle texture to the living room).
Sequestered (and yet remarkably close to Victoria Park), this gem of a house offers something sacred: space and quietude in a bustling city. Divine? We think so.