Inspiration of the Week: Gothic glory and gorgeous gardens in the Scottish Lowlands
Saltoun Hall, divided into generous apartments, offers grand living on an unpretentious scale – but that's not to say future residents wouldn't benefit from better aspects of such stateliness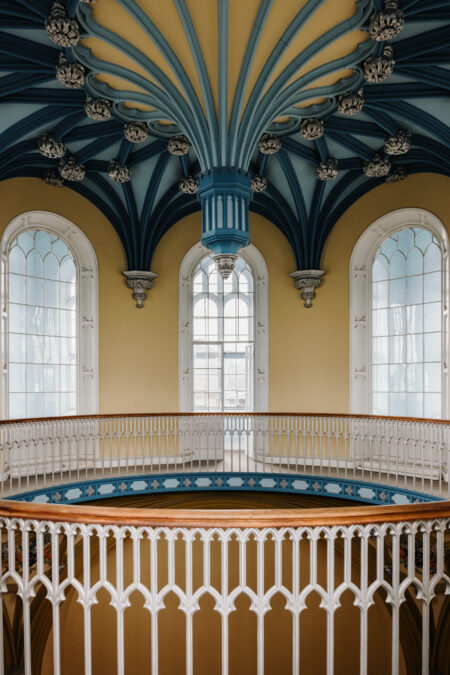 While we'd never turn our nose up at a sprawling country pile, there's certainly something to be said for pads palatial in setting if not in size. Enter Saltoun Hall, a grand building not far from Edinburgh, on the east coast of Scotland. Divided into nine expansive apartments – one of which is now on the market – it's a brilliant example of architectural diversification and makes a strong argument for new ways of living in old houses. Plus, there's less dusting to do.
Though its history stretches back to the 12th century, Saltoun Hall as it stands today was constructed in the 18th century for an aristocrat by the name of Lord Fletcher. Now, there's no title necessary to live in such opulence, though this maisonette, spread across two floors of the building, has detailing fit for any duke, duchess, laird or lady.
It's the house's Gothic icing – its points and twiddles, trefoils and turrets – added by Lord Fletcher's son, a well-known architect called William Burn, in 1803 that really does it for us. For every Georgian sash in the apartment, there's a window with a tapered arch; for every straight lintel, a decorative one. Here, severity and showiness meet and match happily – and, thanks to the modest floorplan, there's no danger of excess or feeling overwhelmed by the drama of it.
Outside, meanwhile, there's a happy balance of private and public. Residents have access to the resplendent formal grounds, planted with scented lilacs and rambling roses as well as ancient yews, but each apartment also has its own space. Each home within the hall has a designated kitchen garden; the new owner of the maisonette will inherit a lovely leafy legacy of flowers, fruit and veg – plus a greenhouse, which is very smart indeed.
And so, yes, a gigantic house is one thing, but – having looked around Saltoun Hall – we'll take splendour on a smaller scale. Put the duster down, we're going for a cuppa in the garden.