Inspiration of the Week: making a (guest)house a home
Formerly a B&B, Hornsey Rise Gardens in north London's Crouch End has been returned to its delightful domestic best. What a comeback!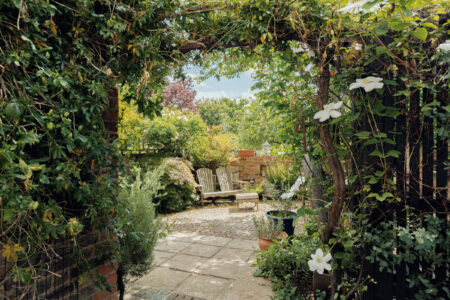 There is, of course, nothing wrong with the great British B&B, all homemade marmalade and hospital corners. In fact, a guesthouse done well is a grand affair – and we'd wager that when Hornsey Rise Gardens, currently on the market, was being run as the Parkland Walk Guesthouse it was surely a lovely stopover. However, when the current owners bought the house 11 years ago, they wanted to restore it to domestic glory and transform its rooms into more family-friendly spaces.
The guesthouse had been popular, inspiring its owner to write a handbook for fellow hosts. It was thanks, we're sure, to the building's handsome bones. An open staircase, soused in borrowed light, forms the backbone of the tall townhouse, while many of its expansive rooms retain their original features, from colourful Victorian tiles to pretty plasterwork and fire surrounds. The 19th-century stained glass of the front door rings our bell quite nicely.
But isn't it amazing what a lick of paint can do? While the current owners have done much more to the house besides – note the limestone splashbacks of that tremendous kitchen and all the beautiful bathrooms, lavishly done without a lino square in sight – it's the palette of this place that has us gushing, from the apple green of a loo lined with tongue-and-groove to the stairway's dado, painted palest custard. Standing in the kitchen, a perfect powdery pink, and looking into the inky blue of the sitting room and beyond into the garden is proof that often, difference is what makes things interesting.
Where once the bedrooms upstairs played host to a passing cast of visitors, now they're places for rest and relaxation on a more permanent basis. Pop us in the peaceful blue number, with a bare brick wall, and we'd happily never leave. Unless, that is, you tempted us down for a drink among the rustling shrubbery of the beautiful garden… On reflection, we think we'd be at home pretty much anywhere in Hornsey Rise Gardens. Wouldn't you?