Home Improvements: Molly Mahon on the joy of perfectly imperfect printed papers
The textile designer talks to Inigo about the pleasures of printing pretty wallpapers by hand – and finding delight in the flaws
Words

Rosily Roberts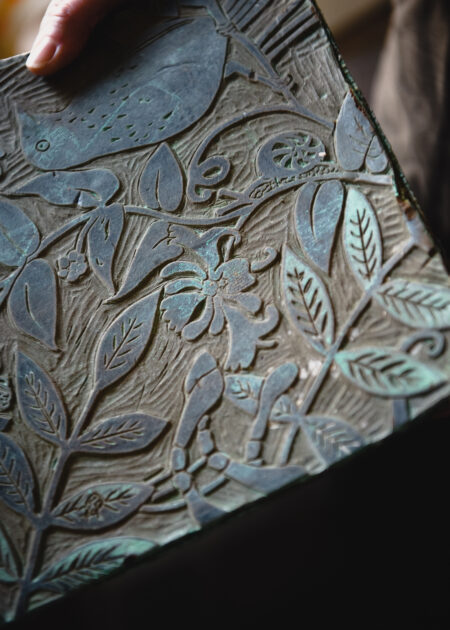 "I printed that with a potato." Molly Mahon is pointing to a lampshade in her kitchen. Her creation – and indeed her whole cottage, on the edge of the Ashdown Forest in Sussex – is a testament to what can be achieved with a bit of imagination, hard work and the willingness to get stuck in. The house is full of both the textiles and wallpaper she designs and sells, along with ones that she has made for herself by hand in the studio in her garden. "I've always had it in me, that need to be creatively busy. I get it from my mum, who was always making something," says the designer, whose block-printed textiles in bright colours and bold, simple patterns populate the pages of interiors magazines and Instagram accounts alike.
Molly's career started as a hobby. In an attempt to feed her constant need to create, she went to a block-printing workshop. There was something about the energy, she says, the excitement of lifting the block and seeing its impression, that just clicked with her. "I knew that I had found my thing!" Initially, she printed at home on paper, and then began designing and selling a range of block-printed stationery. Next up were her prints on fabric and wallpaper – and thus the range of products for which she is now so well known was born.
Recently, she has been sharing her block-printing passion through a course developed in conjunction with Create Academy. The 19-part lesson plan explains, step-by-step how to create designs that can be applied to a range of homeware including cushions, wallpaper, lampshades, napkins and tablecloths. Here, she shares her tips for block-printing wallpaper at home.
The perfect printing materials don't need to be expensive
"I print on normal, fairly thin, liner wallpaper. The overall look is going to be folky and naive anyway, so the texture of liner paper lends itself perfectly.
"As far as paint goes, workaday emulsion paint works well and gives the pattern an interesting, slightly raised texture. It might need to be watered down slightly, as emulsion can be on the thick side, but play around with the consistency to find the one that works best for your print.
"As for the block, I recommend lino. It's easy to cut and comes in different sizes, so it works well with all sorts of patterns. Use a piece of lino half the width of your wallpaper so that each drop is two prints wide."
Start with a straightforward design
"I would start with a small repeat – something that you can easily print over and over without having to worry too much about making sure that everything lines up. Even something as simple as a cross-hatch pattern can look really effective when repeated. It's given an energy and a movement by the imperfections in block-printing. And remember: your wallpaper is going to act as a backdrop for pictures, furniture and fabrics in your home. A simple design can often work better and will allow you to build up colour, texture and pattern around it."
Inspiration can come from even the simplest places
"I take a lot of inspiration from nature. Even something as modest as a single leaf can become a beautiful print, like the repeat in nature itself. I also have a great love of Charleston, the home of Vanessa Bell and Duncan Grant. The colours they used really speak to me me, but so do the repeat patterns. What I love most about the way Bell and Grant decorated is how confident they were. They clearly felt liberated to just go for it, to try things out. They weren't scared of changing their minds. It's because there were no rules! That's what you should always remember when printing your wallpaper."
Find your printing rhythm
"You can apply the paint onto the block with either a lino roller or a sponge. A roller works better if your print is going to be all one colour; it allows you to get an even layer of paint. Use a sponge if you want areas of different colour.
"You have to apply paint to the block between each print. You'll soon get into a rhythm of applying paint, printing and lifting the block. It's about working out what feels right."
It's all about testing, reworking and trying again
"Don't worry about everything being perfect the first time. Or even the second time! Do a few practice runs on a piece of paper before you start printing your wallpaper – and don't be afraid to make mistakes once you've got going. You can always cut that piece off and start again.
"The beauty is in the imperfections, in how each repeat will be very slightly different, depending on how much paint you applied, how hard you pressed. For me, it's a relief when there are nuances in the print. I love it when I haven't quite got it straight! In life, we are all taught to be perfect. But that's not where the fun is. The imperfection in printmaking makes me feel free."
Further reading
Molly Mahon on Instagram