Home Improvements: how painting lampshades unlocked Alvaro Picardo's potential
After a writing workshop encouraged him to further explore his creative side, Alvaro Picardo began patterning lampshades in earnest. Now he's a darling of the design world – and more than willing to share his tips on DIY shade decorating. No more hiding your light under a bushel…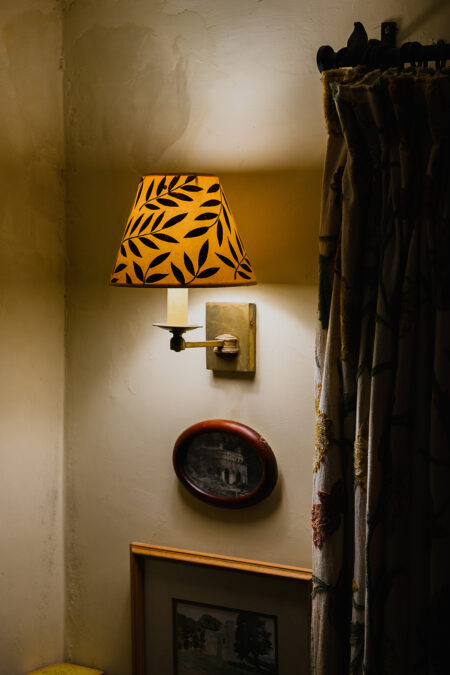 Alvaro Picardo is on a mission to make the world more creative. "Perhaps I shouldn't be giving away my trade secrets," he laughs, "but I don't mind if everyone starts painting their own lampshades. I love the idea of people making things that they're proud of, that feel special to them. There's power in that."
Alvaro, who was born in Barcelona and now splits his time between a fairytale flint folly in Hampshire, a Regency apartment in London and a contemporary country casa in Catalunya, speaks from experience. Not long after his father died in the pandemic, Alvaro undertook a remote creative-writing workshop, run by the Mews Coachworks in Kensal Rise. It was cathartic: "I just began to pour myself on to the page," he says.
"I knew nobody was going to read them – I've never been a very good writer – but as time went on I really felt that I should do something with them, rather than throw them away. They were so meaningful to me," Alvaro goes on. He started to paint on them. "I did a whole collection of little paintings, which I then gave to the friends and family members that had been so supportive in those tricky times."
When the course finished but lockdown dragged on Alvaro, in Hampshire with his partner, art dealer William Thuillier, found himself in need of distraction. While William got busy in the bathroom, covering its powder-pink walls in shells, Alvaro found himself unable to stop thinking about motifs and patterns – and where to put them.
One day, a motif from one of those paintings crawled off the page and on to the card of a careworn lampshade. It wasn't long until every paintable one in the house had had its brush with greatness, souped-up with stripes and diamonds, Greek keys and trippy geometrics. At first, he worked with what he had to hand, but now that business is booming, Alvaro gets his shades made by hand in London. "They're beautifully crafted," he says, "and it's a privilege to be working with someone of such skill."
Alvaro's shades – humble in their everydayness, heavenly in their countenance – signal the start of a new chapter for him. Save for a period as a baker, sadly cut short by severe tendonitis, he has always worked in sales; now he's entirely occupied by his shades. He is, he says, rather busy, juggling bespoke designs for individuals with projects for the likes of Sibyl Colefax, Charleston, 8 Holland Street and the Tolstoy Edit. His next big project, he tells us, is for Svenskt Tenn, the Swedish design shop: a small collection of hand-painted lampshades to complement a few of Josef Frank's fabulous fabrics.
On our visit, he was preparing for the most recent Interiors Boot Sale, a tabletop affair organised by Ruth Guilding of The Bible of British Taste, and Tat London's Charlie Porter. Paintbrush in hand, he shared with us his top tips for decorating a shade that will light up any room.
Make a plan…
"I always start with pencil and paper. I use notebooks that my mother makes for me, with beautifully marbled covers. They're a joy – and they're great for mapping out prints and patterns. I find inspiration for my motifs everywhere, from fabrics and wallpapers to architectural details or something I've seen on the corner of a magazine page. Once you start seeing shapes in things, it's impossible to stop.
"The next step is adding colour. I'll often do this on paper, trying out different paint combinations, but I also use my iPad, taking a photograph of the lamp in context and working on it that way. It's such a useful visual aid. You can swap colours in and out, and compare and contrast, to pin down what's best. Being able to see a shade in its natural habitat is brilliant."
…But don't worry about imperfections
"I don't care about mistakes. That sounds blasé, but what I mean is that imperfections make all my pieces individual and, in turn, special. If I make a mistake, I leave it. Firstly, I run the risk of making things worse when I'm working on this scale but, more importantly, nobody is going to notice. Lampshades are functional objects – they're just part of a room, which will be filled with a hundred other things that might catch your attention.
"When you paint, you're right up close to the shade, but normally you see these things from far away. Plus, lampshades are usually circular – you can always turn it around."
Find the tools that work for you
"A good pencil is invaluable to me. I use pencil to do my preliminary pattern plans in my notebooks, but I also draw directly on the shades. It's important that the graphite isn't too soft and dark, but is also easy to erase. When it comes to rubbers, I couldn't live without my Koh-i-Noor kneadable one, which doesn't leave smudges or residue. Masking tape is not as helpful as you might think – the paint often bleeds – whereas a sewing measuring tape is more helpful than you can imagine.
"I like to use Farrow & Ball paint. Not only is the texture brilliant for card, but they're such versatile colours. People know what they look like – or they can find out easily – which makes the commissioning process that little bit easier. You know what will work in people's schemes."
Look after your brushes
"When you're using wall paint you have to take much more care when cleaning your brushes. Emulsion and eggshell are much harsher than traditional art paints like acrylic. If you're using craft brushes, which I do as they give you greater control, you need to take good care of them. Wash them with soap and always make sure that you've rinsed all the paint out before you put them away. It's the only way they'll last."
Carve out time – and relax into it
"Of course this is true of all creative practices, but I think it's worth repeating. I know, for instance, that I work best in London, when my painting table is just a room away from our bedroom. I can get up at dawn, before the world wakes up, throw on a pair of dungarees and zone in for two or three hours. That time of day is so precious to me. Painting like this takes a huge amount of concentration. It's something that, historically, I've never been very good at, but now that I'm making things I care about, it feels like a treat."
Further reading
Alvaro Picardo on Instagram
Alvaro's collection for Svenskt Tenn will be available in the autumn