Home Comforts: Charles Saumarez Smith on the bottle he's saving and the declutter he's craving
The writer, curator, art historian and founding member of Inigo's Guild welcomes us to his inner sanctum to talk wine and woolly jumpers
Illustrations

Grace Helmer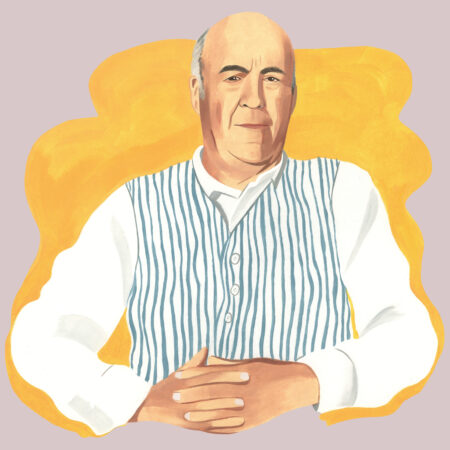 Alright, alright, we know we've already poked around Charles Saumarez Smith's house in Mile End, east London, but we hope that you'll forgive the repeat run – not least as it's so very nice. And Charles, a member of our Guild of creatives and thinkers, has been most obliging, as this time we've gone granular, contemplating the insides of his kitchen cabinets, for instance, and finding out what woolly jumper he's currently wearing. You'd never know from our first visit that this illustrious aesthete's cupboards are filled with old floppy discs – a fact that's no doubt reassuring to the rest of us…
My most recent home improvement…
Adding a new bedroom with a view of Snowdonia, designed by Martin Edwards, to the cottage my wife, Romilly, part-inherited from her parents in north Wales. It turned out to be a much bigger project than expected! And in 2020 it won the AJ Small Projects Award.
The latest addition to my wardrobe…
I've bought almost nothing since lockdown, except a summer jersey from Old Town, in Holt, called a 'Hemsby'. It looks like part of school uniform, circa 1955, which my wife hates and which I have enjoyed. I was also given a wonderful huge woolly jersey knitted by our friend Cynthia Grant. It keeps me warm in my study, which can get freezing.
The most useful item in my kitchen…
For me, the corkscrew…
What's always in my fridge…
Milk.
The prize bottle in my drinks cabinet…
I keep wine in racks downstairs, bought in bulk from Berry Bros & Rudd. I also have one bottle in a cupboard upstairs – a 2000 Château Clinet, which was a gift from the late Budi Tek, a great vinophile. I have kept it to drink one day with Tim Marlow, the director of the Design Museum, who was so upset that it was given to me and not him.
Hanging on my walls…
We have just hung a scarf, called Remembering the Treason Trial, made by William Kentridge, which we had framed at vast expense. It was sold by the Whitechapel Art Gallery at the time of his exhibition there in 2016.
The knick-knacks on my mantelpiece…
I never change the knick-knacks on the mantelpiece in my study. They include a curious Expressionist bronze and a painted head, both of which I bought on a trip to Prague in the mid-1980s; a pink Egyptian Revival cigarette box; a graphite foot; a Greek head that might be a fake; and the Alice Davis Hitchcock medallion, which I won in 1990.
The books on my shelf right now… 
I recently bought a book by Françoise Astorg Bollack, Material Transfers: Metaphor, Craft, and Place in Contemporary Architecture, because it includes an account of the Dairy House at Shatwell designed by Charlotte Skene Catling. I also have Dan Cruickshank's Portrait of a City in Thirteen Walks and recently read Mark Hussey's biography of Clive Bell, admirably detailed, but making it clear that he was always regarded as a bit of a parasite by the Bloomsbury Group, particularly Lytton Strachey.
The music on my stereo…
During lockdown, in contrast to my previous diet of Schubert and Bach, we listened to much more 19th-century music, the best of which was Charles Owen playing Fauré. There was also Melvyn Tan playing Ravel, a lot of Janáček, and even some Chopin.
Growing in my garden… 
Our front garden is dominated by a big medlar tree. I am always amazed by the rapidity of the garden's transformation in early March, when everything comes out at such speed, particularly in a multitude of pots on the steps.
Hidden away in my cupboards… 
Lots of clothes that I should throw away, a filing cabinet I inherited from my father, Christmas presents that I never got round to giving, the remains of a sporting trophy I won for coming second in a race round Acqualoreto in 1977, old photographs, and floppy discs I can no longer open.
On my to-do list…
Clear up.
Further reading
A Home with a History: Charles and Romilly Saumarez Smith's art-filled 18th-century townhouse