A Home with a History: how Gael and Francesco Boglione's Queen Anne house spawned an iconic nursery and Michelin-starred restaurant
Visiting the proprietors of Petersham House & Nurseries, Inigo talks minimalism, restoration and the merit to be found in following one's instincts when it comes to aesthetics
Words

George Upton

Photography

Chris Horwood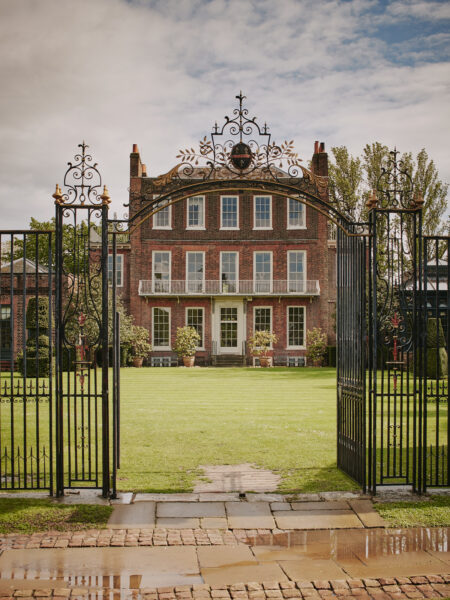 When Gael and Francesco Boglione bought the run-down and heavily modified Petersham House in the mid-1990s, they never imagined that it would lead to them presiding over a celebrated garden centre and an internationally renowned restaurant. The stately 17th-century house, which sits on a bucolic part of the Thames near Richmond Park, is an exemplar of the Queen Anne style (even if the previous owner had obscured the simple, restrained architecture with chintz and murals painted in the 1980s.)
The couple saw the potential, however. They transformed the house, its large conservatory and the 1920s ballroom, restoring period details while introducing a unique mix of Francesco's Italian heritage, English country style and eclectic artwork. When the nursery next to the house came up for sale, Gael and Francesco bought it to prevent it from falling into the hands of developers and unexpectedly found themselves running a business and a restaurant, launched with the acclaimed chef Skye Gyngell, which went on to receive a Michelin star.
Petersham Nurseries has come a long way since it was founded in 2004. The Bogliones have pushed for excellence in everything, whether that's the slow and careful conservation of the house or their commitment to sustainability – recognised in the restaurant receiving a special 'green' Michelin star in January. Now, with the release of a book that chronicles their 20-year journey, Inigo sat down with Gael and Francesco to learn more about the house that started it all.
Gael: "We were living in a lovely house in South Kensington in central London, but with four children I always wanted to live a little bit outside of the city."
Francesco: "I remember one day, we had gone out with the children to have lunch in a park in London. It was a muggy day and even though it was in this idyllic place you could hear the noise from the main road nearby. I looked at Gael and said, 'What on earth are we doing here? You're right, we need to move.'"
Gael: "I sort of discovered this house by accident. I came to peek over the walls at the suggestion of a friend and thought how amazing it looked. It had been on the market for four years – nobody wanted it and it wasn't the most fashionable place to live.
"We almost made an offer on a house on Richmond Hill but then we saw this and we fell in love with it.
"I loved the style of the house, the simplicity of it, but when we first got here there was a lot of chintz – you could barely see out of the window. So we set about restoring it. There were all these fake windows that were added in the 1920s, which we removed, and then we really simplified the rooms.
"The only major structural changes we made were when we moved in. There was a kitchen down by the conservatory, which we switched with what had been a bedroom to make the housework better for us; but mostly it was just a case of undoing all the changes that had been made. We completely stripped it back."
Francesco: "There were layers and layers of bad taste that we took away. We worked hand-in-hand with English Heritage who were very supportive. Together we were determined to respect the very square spaces and symmetry that defines the original Queen Anne style.
"So we brought it all back to the lath and plaster and did everything as it would have originally been done, including using paint mixed with natural pigments."
Gael: "We also tried to preserve all of the original period features, especially the fireplaces."
Francesco: "It was a lot of work, restoring everything rather than doing something new and making it look old.
"When we moved into the house, I received a letter from the Louis Laguerre Society. Louis Laguerre was a French painter who was a godson of Louis XIV. He became very well-integrated with the British aristocracy – he worked on Blenheim Palace and Marlborough House, as well as doing the paintings on the staircase here. So, we had those restored."
Gael: "Our aesthetic developed a lot here. It really grows as you evolve. I got lumbered with a lot of Francesco's family furniture, which were quite dreary antiques."
Francesco: "There are some pieces, like the 17th-century walnut chairs, that look good here, but it doesn't work if you do the whole house like that."
Gael: "So I got rid of a lot of the old furniture and kept it elegant. It's quite sparse, what we've done here – the house is not overloaded with stuff. There's definitely an English connection, as I've been here since I was 17."
Francesco: "It's a modern house; it's functional. It's a place that is comfortable and that is used by us, by our four dogs, our four children and five grandchildren. It's a house you can live in.
"With the art, the core of the collection is work by YBAs, but there are some other pieces that are Roman and Gandharan, and some from Afghanistan. It's very eclectic.
Gael: "And, of course, there's my favourite painting, by Paula Rego, who is just about to have a retrospective at the Tate.
"We really just went with our gut feelings for the house. The vision was formed as we went along. I would just see something and think, 'Oh, this looks nice. That'll go with that.'"
Francesco: "Neither of us like clutter, though. Some people might describe this as a minimalist house but it wasn't by design – in fact, it became fashionable 10 years after we started doing it – we just did things in this way because we felt we could better appreciate the things we do have if they were given space."
Gael: "We came to buy the nursery because it became available and we wanted to save the area from being developed. We were inspired by the conservatories we had here and ended up becoming obsessed with the idea. Francesco said at one point, 'I don't want to be a shopkeeper,' but life is full of surprises.
"It just evolved from there. The restaurant was only meant to be a simple little English tea house with scones and tea but then we got Skye on board and it became a hit. It was the first restaurant to get a Michelin star that had a dirt floor and tablecloths that weren't linen!
"It was a lot of work at the time but we just wanted the simplicity. I think that's why we work so well together."
Francesco: "The main thing is that we agree on things; we've got quite similar taste. It's a real blessing!"
FURTHER READING
Petersham Nurseries is available to purchase via peterhsamnurseries.com
Petersham Nurseries on Instagram