A Talking Point: Annika Reed Studio's winning new wallpapers
Melding memory and mythology, the Somerset-based woodblock printer has conceived a new range of papers designed to offer something a little different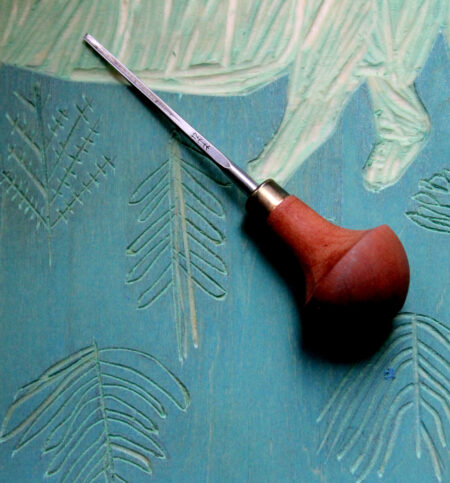 Necessity is the mother of invention, they say. In Annika Reed's case, it's true. Eight years ago, the artist was packing for a residency in Portugal. "I was only allowed to take hand luggage," she says, "so I took some rolled-up paper to work on." And just like that, the seed of wallpaper designing was planted in her mind.
Printing wasn't new to Annika. She'd studied it at Brighton, then in Shanghai, where she'd first learned about traditional woodblock from Chinese masters in the medium, then for her master's at Camberwell. But up to this point, she'd always approached it as a fine artist. Slowly, she found herself "obsessed with the idea of moving print out of the frame" and intent on focusing on the everyday. "Studying art academically had the wrong effect on me," she explains. "I was so bogged down in the theory that I forgot why I'd become an artist. I had to justify everything I did, when really I just wanted to make beautiful things."
Spurred on by a dearth of good designs with which to decorate her baby's nursery, Annika found her motifs crawling, unstoppably, on to the walls. In 2018 she founded Annika Reed Studio and, since then, she has been eagerly adding to her textile compendium, turning her hand-carved woodblocks into digitally printed papers and fabrics. And at Decorex earlier in October, she launched a new range. While – like her others – it doesn't bear a collective title, the same thread runs through it as it does all her other designs: "Everything I do has a story," she says. Drawing on classical mythology, folky fables and the world around her studio, near Frome in Somerset, Annika's 10 prints and pattens have been created with the aim of bringing colour, texture and something – in her words – "a little less ordinary" into people's homes.
Guiding some of the new designs is a strong sense of the divine feminine. "I'm heavily influenced by the ancient goddesses," says Annika. "I'm very taken by the idea that each goddess represents a room in my house, so in turn I've created something that speaks to that idea," she continues. Athena, goddess of both creativity and pottery, takes shape in the charmingly jumbled 'Muggle of Jugs', conceived with Annika's studio at the back of her mind; Athena is also present in 'Olive', its bands of clambering boughs a reference to the tree she planted atop the Acropolis.
Some patterns feel closer to home (the wonderfully wobbly 'Somerset Stripes', for starters, inspired by childhood beach holidays), while others are further flung: 'Agra' and 'Jaipur', for instance, their small repeats and neat symmetry a nod to block-printing traditions. "I wanted to draw that connection between my training in Chinese woodblock on paper and India's fabric practices – two sides of the same coin, in some ways."
"Having said that I found the academic side of fine art got in the way of my practice," Annika explains, "I also owe quite a lot to it." What does she mean? "It's the history thing. I do want my designs to have meaning, to be rooted in something, even if it's a bit abstract." Sometimes it is, we say, thinking of the feathered felines of her 'Winged Lion'. While they may resemble the gryphons of Greek lore, in fact they're drawn from a pair of stone sculptures that sit outside Annika's workshop: "The protectors of my studio."
Jumbled jugs, unsteady stripes, blockprint fabric as woodblock paper, lions that fly. The unifying charm of these things lies perhaps in their unexpectedness and their imperfections – something Annika seems pleased by. "That's what woodblock is about," she says. "That's why I love it. By its very nature, the process is full of happy mistakes – you can never get a straight line, sometimes a knot in the wood will force you off course – and you have to work with them." Leaning into those quirks, it seems, gives Annika the chance to do what she set out to: create things a little less ordinary.
Further reading
Annika Reed Studio's designs sell through Glassette, Anthropologie and her own website
Annika Reed Studio on Instagram