A Room of One's Own: ceramicist Jynsym Ong's studio of elemental explorations
The world is at the fingertips of the Oxford-based potter, who uses the landscape around her – geographic, human and even animal – to inform the earthly beauty of her clay creations. There's fire, ash, sandstone… and even the occasional badger
Words

Cici Peng

Photography

Elliot Sheppard

Production

Harry Cave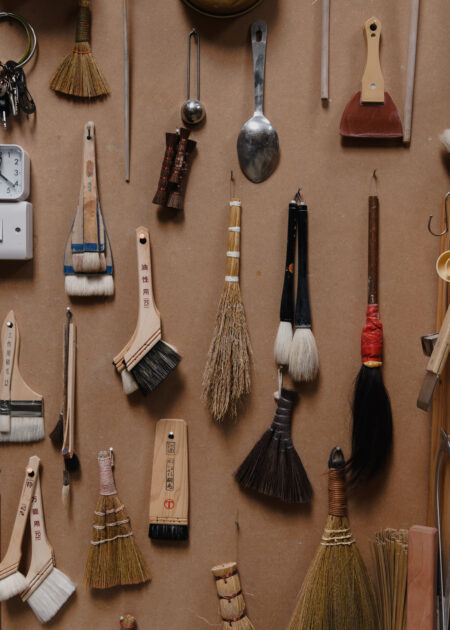 Jynsym Ong's studio shelves are currently filled with hand-thrown tea pots, oil pourers, sconces and mugs she's made herself. "The studio often looks different, depending on what's currently lining my shelves and whether I'm making big things, small things or fiddly things," she says. "It changes the studio space itself." The potter takes pleasure not just in the aesthetics of these objects, but in the fact they have a use too. "Ceramics are a democratic form of art," she continues. "Your relationship to them is so intimate – you hold them in your hands every day, you move them around, they are part of your daily routine." In that vein, on the walls, Jynsym also has a poster of Ai Weiwei's Dropping of a Han Dynasty Urn, showing the artist dropping a precious pot – "to remind myself to not to be too precious about things".
While she now runs her own studio in Oxford, her pieces stocked by the likes of Toast and Objects of Use, Jynsym credits a two-year apprenticeship with a master potter in Karatsu, Japan, with transforming her work. It came about after a stint at the renowned Clay College in Stoke-on-Trent, when Jynsym was awarded a scholarship and the chance to study and work abroad. "On the walls of the studio are traces of my time in Karatsu," she says, pointing to the clay hand- and paw-print of a monkey and a badger. "During my time there, we would dry our clay on boards in the sun. Animals walked across them, leaving their marks. They were so perfect, I fired and kept them." She recalls how the badger, a frequent visitor, would steal her apple crumble.
At the time, Jynsym was living in a 100-year-old traditional house at the foot of Mount Kagami. Her commute to her master, Mitoh-san's, studio saw her cycling through vibrant paddy fields and an ancient pine forest every morning. "Mitoh-san showed me how to work with my surroundings. In Karatsu, we dug all our own clay from the mountains and would find materials for our glazes like sandstones, breaking up the rocks by hands. It was labour intensive, but it was incredibly beautiful, because we got the textures from the mountains in our work."
Jynsym's practice is rooted in this connection between craft and land – something she has continued to embrace in her new surroundings in Oxford, doing things like using wood-ash collected from neighbours' fireplaces to fire her ceramics. Last year, she established her own studio in the shared community of Magdalen Road Studios, a 10-minute cycle from her home. "The studio is one big space divided into different cubicles, with a high ceiling and a skylight. You can really feel a sense of togetherness, as you can hear everyone at work, which is important to me because pottery can be such a solitary practice." As well as exhibiting together, residents often have lunch together and chat. "And, when you're working late, it can be comforting to hear someone else ambling about too." As Jynsym speaks, a neighbour hums happily to himself.
This is the first time she's had her own studio. "It's amazing having all I need to enable my own practice. I have set out and made everything as I require it, building all of the stillage and wheel spaces myself, to fit my body perfectly – not so good when I'm teaching other people! But the autonomy has given me more freedom to create and nurture. I can work here at night, for example, with just a candle burning and BBC Radio 3 playing."
One of Jynsym's favourite objects to make are her komainu lion-dog sconces. "Candlelight is so important in creating a sense of safety and warmth," she explains, going on to say how these creations were inspired by the carved creatures protecting the entrance to many Japanese shrines. Jynsym's lion-dogs are smiling little beasts bearing flames that lick the night. "I wanted to them to create the same sense of sanctuary in a space. Though they're designed to hold candles, each has a little 'temple' in the middle: an incense box that lets smoke out."
Jynsym's studio is an exercise is space-management, with her tools lining an entire wall. Among them is a collection of sieves with meshes of different grades. "I got them from the former studio of potter Richard Batterham who, after he died, wished for all his tools to go to new homes to be used. It's wonderful to have this cross-generational relationship with potters I have always admired through these inherited things."
The brushes, meanwhile, reveal Jynsym's ongoing exploration in mark-making. "Most of them are from Japan, although I've made some of my own, using rice straw and even my own hair." She got the idea in a masterclass led by slipware potter Clive Bowen, who had made a brush out of his horse's tail hair that he used to draw languid marks through slip. "I went home that night and thought, 'Well, I don't have a pony, but I do have a ponytail…'"
Nothing is off-limits for material exploration it seems – from Jynsym's own body to her surrounding terrain. Right now, she's interested in wood-firing, which she does in nearby Wytham Woods. The Oxford Anagama Project, set up by an anthropologist from the city's university, is helping her explore this further. "Anagama means cave kiln in Japanese; it's a type of single-chamber wood-fired kiln. We work as a team to fire our objects for 80 hours, overseen in six-hour shifts." As the timber burns, the flames and ash fly on to the clay, producing distinct and unpredictable marks – glassy flecks, crystals, colours. "The pieces bear the marks of the fire and how it curls around the clay," Jynsym says. "It's almost a form of painting."
There is a sense that Jynsym works with nature by her side – those animal footprints on her walls, that wood-ash collected from wintery fireplaces. "My craft is about control and trust. I mould the clay, yes, but I can't control how the fire interacts with it," she says pensively. "And things can come out of the kiln so differently from what you expected." No wonder she chose Ai Weiwei to look over her in here.
Further reading
Jynsym on Instagram