A Room of One's Own: the style and substance of Lucy Williams' living space
The tastemaker's transformation of her west London terraced house has been devoured by thousands on Instagram. But the influencer isn't focused on what's hot right now, instead preferring one-off pieces full of heart and history – not least as they're often cheaper. On a bright winter's morning, we discuss her living room: a vestibule of loveliness she describes as "that white t-shirt you try not to spill something on"
Words

Eve Delaney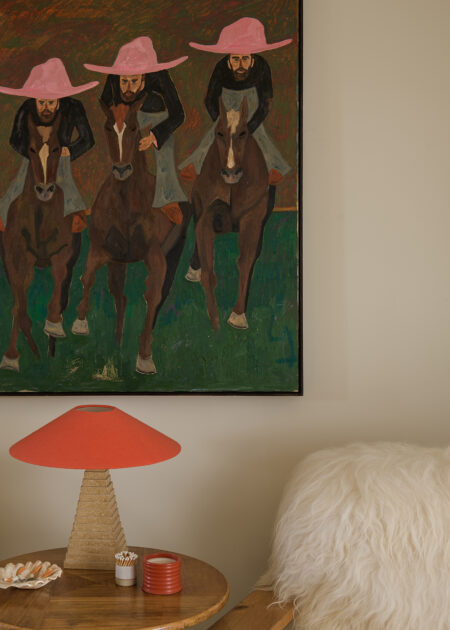 Connecting the terracotta entryway, cornflour-blue living nook and bright white kitchen, this joining room is, in Lucy Williams' words, the kind of "what do I do with it" section of a Victorian terraced house. But this indulgent, pearly through-room has been far from forgotten. Caught somewhere between her two biggest inspirations – the smooth minimalism of Pierre Yovanovitch and the mishmash aesthetic of Kensington gallery 8 Holland Street – this part-bar, part-reading room, part-coffee-drinking spot is the perfect stage for the influencer's most special items, old and new.
Lucy explains that the hallway, her other route from the front door to the kitchen, is a kind of "backstage area", while her pantry and coat room are day-to-day spaces, focused on practicality and utility. This, in contrast, is her "grown-up room". It's like "that white t-shirt you try not to spill something on" – a reflection of Lucy's less-than-strictly practical side, brimming with antique gems including her 1930s Heals drinks cabinet, or the oil painting she sourced at a car-boot sale. There are flashes of red from a Loewe candle with the scent of tomato leaves, a scarlet lampshade from Glassette and a bottle of Madre Mezcal. To Lucy (and indeed to the hundreds of thousands that follow her on both her personal and interiors Instagram pages), the room represents "the person I want to be".
In fact, we talk a lot about what she shows to the outside world when we visit; it's a complex subject for an influencer, but Lucy says she is happy to go beyond sharing just this room, her "ideal self" bit. She loves how social media has "democratised design", allowing people who might otherwise feel that the interiors and art worlds "weren't for them" to feel included. Lucy shares a few of her insider tips with us, from her mood-boarding process (she uses Pinterest and InDesign to map out rooms), to her favourite sale (it's the Interiors Boot Sale in Primrose Hill).
We talk about decorating on a budget too, as it's not just 'design gatekeeping' that blocks people from creating special spaces. Lucy's guidance is: if you're prepared to spend the time, you won't have to spend the money. She recommends diving into the charity shops in your hometown, or getting recommendations for junk yards when you're driving through new places. "Tiny, dusty old oil paintings and little brass candlesticks can make somewhere feel like home," she believes. "Finding a piece of free-standing furniture is so much cheaper than having a carpenter make something for you. Plus, older pieces can be much more affordable than something mass-produced." You have to put in the work, she adds, "but the payoff is better". One of her favourite things is her "tatty quilt" that she got for a tenner. "Things don't have to cost the earth. If something makes you happy, then it's right for you."
Lucy is big on design that lasts, too. She has undoubtedly become an arbiter of taste, so we ask if this puts pressure on her to always be "in fashion", or to change things up to pre-empt the style zeitgeist. Her answer? Not really. "I made a conscious effort to hone in on what I like and not to worry too much about what was going on elsewhere," she explains. "We're all influenced by what's going on and it does filter in, but I didn't want to create an 'Instagram house'. If people online do like it, it's a bonus."
And so, even though we derive great pleasure and inspiration from Lucy's home, this space is designed primarily for her, for her family and for hosting their loved ones. All the same, she notes that she wasn't always alone in the design process. "I'm so in awe of people who are experts in their field. If someone wants to give me advice? I say: 'YES! Give me your wisdom!'" And a lot of expertise has been poured into this little room. Created with the counsel of antique extraordinaire Thea Speke, Farrow & Ball's celebrated colour consultant Paddy O'Donnell and creative designers Buchanan Studio, this job was a collaborative one, with Lucy at the helm.
As well as practical help, Lucy finds inspiration all over. Her luscious chunky-armed vintage sheepskin chairs were the room's first addition. It all grew from there. The walls (painted in Farrow & Ball's 'Schoolhouse White') and trimmings complement the seats in all their milky delight, combining to create a perfect midpoint between the blue front room and the gleaming kitchen at the back. Lucy notes how much she loves "monochrome spaces" that all speak to each other through doorways. This near-single-tone room is full of tactile textures in the same palette, like the shell sconces that cast a warm glow on the wall, and the neutral hues of the reclaimed Retrouvius rug.
There are expressions of colour throughout, though, and the cheeky art here cuts into the precision of the space. Alma Berrow's sculptural ashtray is the best example, which sometimes tricks Lucy's followers into thinking she's left a crumpled pile of cigarette butts in a photo by accident. "People comment things like: 'Eurgh, gross!'. But I like that it has a reaction. It's just a bit fun."
As Berrow's piece chuckles at the room's sincerity, the kooky Ben Craze painting of jockeys with oversized Barbie-pink hats joins in on the fun. Just as with the candle that's been allowed to ooze across her otherwise immaculate travertine mantlepiece, the ashtray is a reflection of Lucy's deeper, defiant self, of her breaking free from the confines of the room's perfection.
Further reading
Lucy Williams on Instagram
Lucy Williams Home on Instagram