A Private View: parting in peace from a hand-hewn home in Stockwell
While a move can be bittersweet, it also heralds new beginnings, as James Russell and Hannah Plumb, who are selling this Regency cottage in south London, well know. Here, they talk us through their painstaking transformation of the place – and reflect on the change between chapters in their lives
Words

Grace McCloud

Photography

Mark Anthony Fox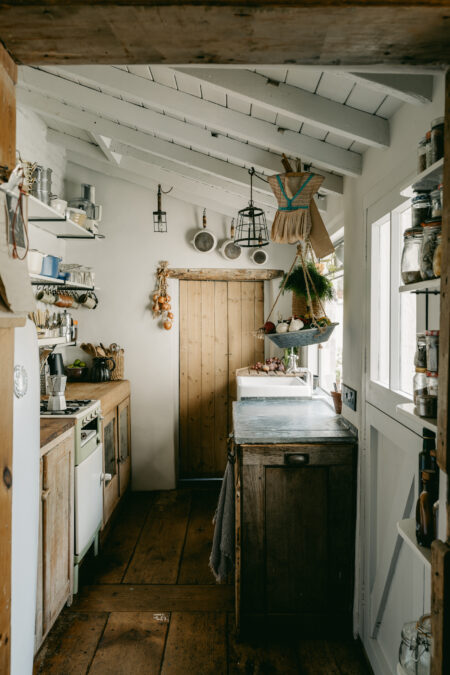 There aren't many houses like this one. Set back from the street, the Regency cottage sits adjacent to a grand 18th-century temple in Stockwell, once a church and now a mosque. It is, from the front entrance, at first unassuming. But those with a trained eye will find theirs lingering on the smooth smartness of the render, the quiet elegance of the heavy brass knocker.
Initial impressions aside, it is behind the door that the house's more extraordinary character unfolds. It is a rare thing, on the one hand almost entirely untouched structurally, yet simultaneously softly and splendidly coaxed into the 21st century by its owners. The house, an enlarged two-up two-down bisected by a steep central staircase, is the last on its row with its original layout – though its finish is entirely singular. It's also now for sale.
The owners in question are James Russell and Hannah Plumb. Together – working as design studio James Plumb – they create objects and interiors with an emphasis on found materials and the exquisitely handmade. Trained as sculptors, they bring their artistic sensibility to everything they do – whether it's crafting theatrical furniture or conceiving peaceful and poetic fit-outs for brands such as Aesop and Hermès.
And in this house, they really did do pretty much everything. "Every time I got a quote for something," Hannah says, "I'd mull it over and think: 'We could pay someone… Or we could just give it a crack.'" As with their work, James and Hannah felt untrammelled by rules about what they could or couldn't do themselves – though Hannah admits the render was done by an expert. "If we'd been working with a 16th-century cottage with wobbly walls, I reckon we could have got away with it," she smiles.
They founded James Plumb in 2009, working first at home, then in an old bakery before settling in a former water-storage plant in nearby Camberwell. They were, however, recently given the sad news that the building they have rented since 2012 was to be sold to developers. James and Hannah's ensuing search for a workshop of similar calibre brought no joy. But, unperturbed, the pair decided to take things into their own hands. (You might have noticed a theme emerging here.)
With their twinkly tousle-haired son, Walter, James and Hannah are preparing to up sticks – and tools – as they begin the major overhaul of a tumbledown farmstead in the Welsh Marches of Shropshire. As well as creating a family home, they will construct a studio for the business. It's exciting, they say in unison, if profoundly emotional and bittersweet. "To move after 14 years is a big thing," Hannah adds. Her understatement hangs heavy. "But we have to let go. Letting go is liberating." And, just as they create beauty out of found, disused and neglected materials with their work, so have Hannah and James found comfort amid the complexity of this moment in their lives. "We don't see this as a loss, but a new experience."
James: "I remember getting a call from Hannah, when she'd first seen this place. She'd noticed it online and, without any appointment, had driven over to take a look. She rang me while standing on the roof of her car, trying to peer over the wall, and said: 'We're going to live here.'"
Hannah: "I knew straight away it was lovely. Later on, we learned that a celebrated pianist lived here. Everything inside was quite dramatically decorated; I just remember all these different shades of red: crimson, port, burgundy… He'd placed a baby grand piano in front room, which took up the entire space, while upstairs was a recording studio.
"It hadn't been modernised, save for the extension that contains the kitchen and bathroom. For us, that was great. Though I wasn't a fan of the scary fish tiles in the bathroom…"
James: "People used to come to see us before we'd redone the bathroom and we'd madly rush to and tell them that the tiles weren't our choice."
Hannah: "At first, we had our studio at the front of the house. This was before we had a baby, so it was possible. It was also chaotic and brilliant and entirely unconventional. Then one day we blocked the kitchen sink with plaster and we realised that maybe it might be time to get some more space."
James: "We had a flurry of activity when we first arrived here to make it more liveable, but we didn't move anything major around. The house is still pretty intact and is structurally much like it would have been when it was built. I really felt we had a duty to preserve the fabric of the house as it stood.
"Then, when Covid hit, we were just about to embark on new renovations. Suddenly, nobody was available to come and work on the job. It was incredibly fortunate that we're so used to doing things ourselves and by hand, so that was what we did."
Hannah: "I got a quote for the leadwork and realised that so much of the cost was labour. I'd always wanted to learn how to weld, so I just thought: 'Now's the time.' It was such an adventure. In fact, this whole project was an education. We learned so much.
"At every turn, we tried to be as true to the building as possible. As James says, we had a responsibility to the building. Everything had to make sense and work with the house; we couldn't just install something because we liked the look – and I think the materials we've used here are a real reflection of that. Good design needs to be practicable."
"When James and I met at Wimbledon College of Arts, I was making a lot of quite out-there sculptures that involved me casting blow-up sex dolls that were a little deflated. Since then, my work has continued to focus on that idea of the imperfect and the slightly overlooked – and particularly finding life in inanimate objects. I think that must have been what drew me to this house – it wasn't entirely neglected, but it wasn't fully loved."
James: "It has in the years since become very loved, though. It's strange to think we're leaving – and our studio too. I will really miss both places."
Hannah: "As will I. Though I think I've mourned them properly, which is important. At first, it was complicated, though, and we felt very conflicted about moving. Then a friend read us a quote by Goethe: 'Until one is committed, there is hesitancy, the chance to draw back. Concerning all acts of initiative (and creation), there is one elementary truth, the ignorance of which kills countless ideas and splendid plans: that the moment one definitely commits oneself, then providence moves.' That idea of change allowing for new opportunities really helped us let go."
James: "I'm really excited about the Shropshire project. We've had some very sympathetic clients, who are allowing us to take our time, and we've also been asked to do an architectural project in upstate New York, which will be the first we've worked on from the ground up. I think moving out of the city will allow us to set our sights wider."
Hannah: "It's really reassuring to me that we're going to be working on something outside of London. I won't feel like I've left too much behind. This house means a lot, but now it can do that for someone else."
Further reading
James Plumb on Instagram
James and Hannah's house has been photographed by Rich Stapleton as part of a collaborative exhibition presented by our companion brand, The Modern House. The show will be held in Spitalfields, London, in October, with more information to be released soon. Check themodernhouse.com for details.