A Night Away: sophisticated sustainability and gastronomic excellence at Keythorpe Hall
The magnificent Keythorpe Hall, in rural Leicestershire, isn't a hotel but a house for private hire – with all the sumptuousness one expects of Georgian pile of such splendour. It's also a beacon of sustainability on an admirable scale, with a glorious garden to boot. Fancy a forage?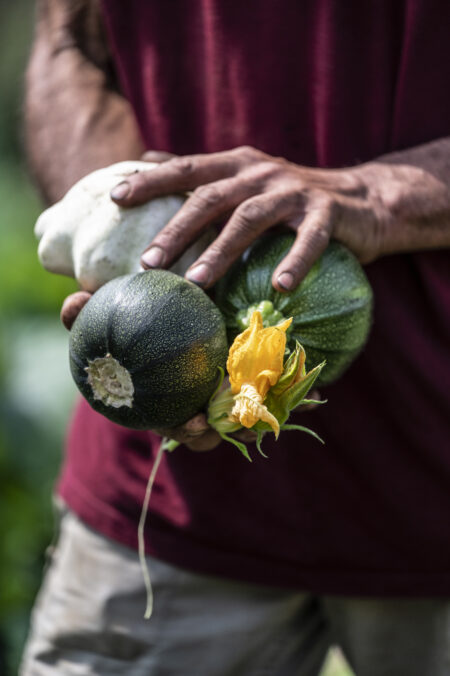 Did you know that nettles have more iron than spinach? Or that there's a sea herb that tastes just like oysters? Claudio Bincoletto, the effervescent head gardener at Leicestershire's Keythorpe Hall, is prone to handing over jewels of information like this, diamonds from the dirt. A fantastic storyteller with a background in ethnobotany, Claudio, formerly of Petersham Nurseries, has also worked as a nettle hawker and as a master forager in the Italian army. "Plants are the history of man," he says. "And therefore they are our future too." It's no wonder Keythorpe's owners, Giles Godfrey and Barbara van Teeffelen, were won over by his charm and knowledge.
Anyone staying at Keythorpe – perhaps the most luxurious and exclusive country house for hire in Britain – is encouraged to spend a few hours with Claudio. He'll walk you through the serpentine planting of the estate and across its woodlands, stopping to sample the meadow sorrel or Swiss tea he's bound to spot. The ramshackle walled garden, however, is his pride and joy. This 1.8 acre plot is, at first glance, rather wild-looking. Here, pheasants' nests and nettles – lots of nettles – exist happily alongside the veg and vines that Claudio has planted. But this riotous growth is all in the name of biodiversity – and is just beauty in another semblance.
"Experience over consumption," Barbara says when asked what Keythorpe is all about – whether that's foraging, flower arranging or gastronomic exploration (the in-house chefs hail from Michelin-starred establishments including St John's, Sketch and Maaemo in Oslo). Sustainability is at Keythorpe's core too, though Barbara and Giles choose not to aggressively promote that side of things, instead preferring the house's eco credentials to speak for themselves.
In fact, they positively sing. All the meals here are built around organic produce from the garden and nearby farm. Nothing goes to waste – on Inigo's visit, we ate clouds of choux pastry dusted with last year's salt-preserved damsons and filled with a custard made from potato peelings. All the flowers in the house are grown on-site, supplying local florists in the process, and when winter comes, tables – and even the Christmas tree – will be brightened by blooms dried earlier in the year.
The house itself, meanwhile, has been restored and decorated with an honest-to-greenness approach: think cork placemats and wall hangings woven in local flax, both dyed with the ghostly silhouettes of flowers from the garden. Plant-based paints from Edward Bulmer have been used throughout too. Bulmer even came up with a colour specially for the house: 'Keythorpe Red' sets the central hall aglow, shades of russet and pink rippling at different times of day.
All this goes to show that everything at Keythorpe has been considered – a fact that extends to the hospitality. Every last wish of its guests – Keythorpe is designed to be taken over by families or groups – can be met. Want to take over the wine cellar? No problem; the team includes an award-winning sommelier who can source bottles of the finest vintage – there's room room for about 18,000 of them. Hankering after a quiet one? Settle in to the exquisite double drawing room. Like all the rooms in the house, it has floor-to-ceiling sash windows – only here there's a high-tech telescope for stargazing. And as there's no hotel staff, you can mix yourself a drink exactly as you like it. Later, escape to one of the seven principle bedrooms that have been souped up to utter sumptuousness. No creaking pipes here – only staggering and seemingly endless views from roll-top tubs.
Architecturally, the Georgian house – commissioned by the 11th Lord Berners – is splendid. It's thought that Robert Adam worked on an early version, but no drawings survive. When Giles and Barbara bought it, it was in a state of serious disrepair. Over lockdown, they got to work. Eschewing interiors designers, the couple have conceived a place that honours the house's history without feeling slavish, buying antiques that feel fitting rather than necessarily being accurate to period or place. There is just the right amount of irreverence here – think contemporary art juxtaposed with portraits of Berners past – as well as due respect; we were particularly impressed by the wondrous wallpapers from Watts of Westminster.
And the project isn't finished. While the couple originally bought Keythorpe as a weekend house, now they run it commercially to help fund further restoration. "We're just taking the house back to what it was," Barbara says, "a place for entertaining. Only now, this symbol of power and wealth stands as a symbol of sustainability and hospitality." Hear, hear.
Further reading
Keythorpe Hall on Instagram