A Maker's Story: how flame-stitch needlework ignited a new passion for Paul Bailie
Paul Bailie is often found burning the midnight oil, so enamoured is he with the bargello embroidery technique he taught himself in lockdown. Having taken it up to banish boredom, Paul's now busy stitching full-time. Visiting him to learn more, we meet a man on fire
Words

Celia Lyttelton

Photography

Lesley Lau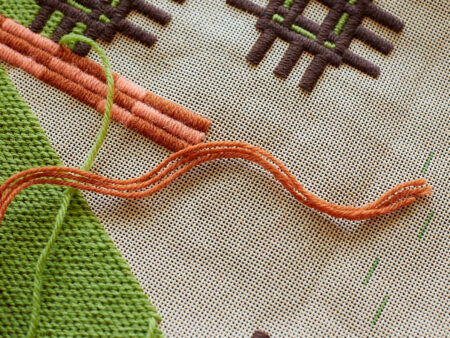 Lockdown had a transformative effect on many – Paul Bailie among them. Born in Belfast, Paul was managing Quintin, a romantic castle in County Down on the shores of the Irish sea, when the instruction came to stay at home. Now, he is an expert embroiderer of the bargello stitch – as followers of his Instagram account can attest. At home in Worcestershire with his partner, Paddy O'Donnell, the international brand ambassador of Farrow & Ball, Paul quietly works this time-honoured embroidery technique to astonishing optical effect. These days, he's stitching full-time, selling one-off cushions to those in the know.
Bargello is magnificent even when centuries old; in bright contrasting yarns the stitching creates startling 3D effects. The term is thought to derive from a set of seven chairs found in the Bargello Museum in Florence, a Renaissance palace turned jail. Rumour has it that the quattrocento prisoners were taught needlework, which was then sold. The technique goes by several other names too – flame stitch (punto fiamma in Italian), Hungarian stitch, Florentine stitch – and makes for striking upholstery and cushions of the type Paul now spends his time creating. Here, needle in hand, he talks us through the finer features of his craft.
"When lockdown came, I was managing Quintin, on the east coast of Ireland. Suddenly faced with little work, I searched for something to do that would require concentration. On a whim, I thought I'll try needlework and ordered a kit. I set up an Instagram account and discovered, to my surprise, a massive community of fellow practitioners out there.
"My father was a major in the Royal Inniskilling Fusiliers. Other than seeing his beautifully embroidered regimental crests when I was a child, I had not been exposed to needlework before. It took a while for me to learn the knowhow, not least as you do need a certain eye to put colours together. Moreover, it's mathematical, counting the stitches; combining logic with creativity. I have used silk in the past, but I tend now only to use broadcloth and wool. Mine comes from Yorkshire.
"Bargello requires a lot of forward planning; you must work out where the curves are going to be, what lengths of yarn you'll need and the number and combinations of stitches you require to create the desired optical effects; preparation is everything.
"I've done many things in my life. I started my career as a ceramicist, which I did for two decades, until I had an epiphany. Needing a change in direction, I took up a post with the National Trust, where I was for 10 years until I was offered the position at Quintin Castle, on the shores of the Irish sea.
"I put my making on hold and instead focused on creating a substantial garden at Quintin. I would commute at weekends; you can imagine the feelings of isolation were quite acute when that had to stop in March 2020. I found the repetitive nature of stitching very soothing.
"I love the rhythm of this style. Although designing bargello is methodical and mathematical (graph paper is essential), I have become hooked on inserting freestyle sections into the ordered framework. I love creating tension and interrupting the regular nature of random sections of colour and altering the direction of stitches.
"My process has similarities to throwing a pot, I think, in that I often have to stand back from a partially completed piece and decide whether it's working. Needlework is my now full-time job, but I don't have a rigid routine. I often have to stop myself stitching long into the night…
"I never started off with an exciting business plan – it just happened organically. As I worked up my craft skill, I set up an Instagram account and watched while friends expressed interest. Now, I sell direct to customers and work to commission for interior designers. The huge bulk of my work is cushions; nearly all are made to order.
"A simple flame-stitch cushion retails at £380 and takes three days; more complicated ones, with 12 colours, take a week. I am inspired by everything and anywhere. Recently I've been looking at lots of stained glass and Etro stripes. My dream commission would be to embroider an early 18th-century wing-back chair. I reckon that would take six months.
"People don't often put men and needlework together, but in the 19th century sailors often embroidered; I've heard that John Malkovich stitches on set. It's such a brilliant way to stave off boredom. Doing something beautiful and worthwhile gives me such a great sense of wellbeing. When I see a job well done, with every stitch correct, I just think: Yes! I made that! There is nothing quite like that feeling."
Further reading
Paul Bailie on Instagram