A Maker's Story: Nancy Nicholson on picking up the threads of time in her Devon cottage
Sitting at her loom in the top room of her Totnes home, the weaver and artist finds herself somehow communing with the past, part of an ancient lineage of textile makers throughout the ages
Photography

Ellen Hancock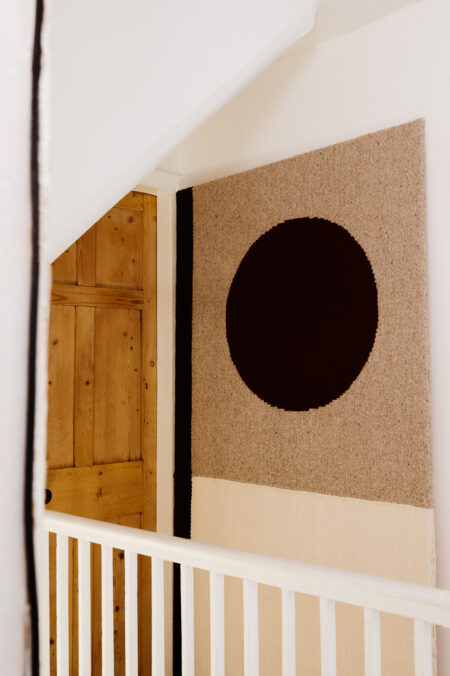 It's hard to overstate the ways in which textile history is woven into our own. Such a sentence underscores that fact, for even our language is laced with its interconnecting threads. "That 'text' and 'textile' have the same etymology says so much," explains Nancy Nicholson, sitting within the stone-walled study of her home in Totnes. "Humans have been making fabric for almost as long as they've been human."
Nancy has just showed us around the higgledy-piggledy Devon cottage she and her husband, Tim, moved to in 2021. Its rooms are pale and pretty, laid out in the Victorian era around what Nancy suspects – pointing out the timber frame – is an older core, just one room deep. Whitewashed and filled with exquisitely simple pieces of wooden furniture, there's something of Jim Ede's home, Kettle's Yard, about the place. This is thanks in no small part, too, to Nancy's woven hangings and rugs that cover wall and floor here. Abstract in motif yet ancient in medium, they walk a taut tightrope, as much of 'then' as they are 'now'.
Nancy quit her job in the art world when she and Tim left London (she had previously worked as a set designer in theatre) and has since been weaving full-time. Before moving to Devon, she had a separate studio but, with the space afforded the couple by their move to the country, she's taken her work in-house, as it were; now her pedal-powered loom – a majestic, clattering creature of a machine – lives in the converted attic space, as much a part of the menagerie here as Winston the poodle, or Ozymandias the cat.
As a weaver, Nancy says she feels part of a long lineage of textile makers, a sense heightened by the history of the town in which she lives. "Walking through Totnes, seeing the patchwork of buildings from different centuries, the veil between us and the past feels very thin," she explains. "It anchors me to history, in a way that using a loom, which people have done for millennia, does too. My abstract shapes might feel modern, but I think they're more an exploration of geometry – and that has underpinned us all forever."
"I started weaving when I was in London, on the side of work. It was a great counterbalance to the fast-paced, stressful nature of my job and my life in the city. Then, when Covid arrived, that feeling really hit home: life felt much more fraught, but I was also able to weave a lot more, because of the spare time I had.
"I have always found weaving very meditative. In part, it's the rhythm of the loom – it's almost like music. But it's not just the motion that's relaxing, it's the knowledge that you're part of a history of people – largely women – who have been doing this by hand for aeons. In the the pandemic, when the future felt very unstable, I found the way the loom gave me that concrete connection to the past very comforting. It lit a fire under me and made me take the plunge to do it full-time.
"I like the idea that there is a structure and a sense of balance in the world – and I use my work to explore that. I get inspiration from all around me. It might be the circle of a car wheel against a yellow line, or the pane of a window against the curve of a hill. I look at the natural compositions around me and pare them back to their most basic geometry – all in the name of balance. I find it fascinating the way an artwork can change with the addition or removal of an element – the relationship between two circles can be entirely altered by the introduction of a triangle, for instance. There's something fundamental about those compositional relationships. I wouldn't go so far as to say it's spiritual, but it's reassuringly elementary.
"My life is, in many ways, bound in wool. My mum is a sheep farmer in Cumbria and this house was once a wool merchant's house, which feels poetic. I love wool – but it's part of a complicated conversation. It's a miraculous fibre that does wonderful things: it keeps you warm in the winter and can keep you cool in the summer; it keeps you dry; it's biodegradable and breathable; it can be incredibly tough and beautifully delicate. But the way it's produced isn't sustainable. The UK wool industry has all but collapsed – it costs my mum more to shear one sheep than she can sell the fleece for. If we want to use wool, that industry has to be revitalised and in order for that to happen, we need to start farming sheep just for wool. I know, of course, it's not as simple as that, but it's really interesting hearing the exciting ideas regenerative farmers have about it. I so hope things can get better.
"I get most of my wool from a mill in Yorkshire, which allows me to buy offcuts by the kilo from larger orders placed by others (theirs are usually by the ton). It's very efficient and means there's much less waste and, as it has its own water source, the mill can dye for me too. It's not all-natural yet, but it's transparent about trying to do better, which is the next best thing. What I would love to do – and it's something I've been working on for the last year – is to find someone that will spin my mum's fleeces, so I can pay her better than the British wool board can. Then I could say I knew the sheep my work is made from; I've seen the grass it ate. That would just be so lovely.
"Weaving is now quite a solitary activity. Historically, that wasn't the case; women would be in and out of each other's houses to borrow yarn, swap tools and exchange information – both technical and gossipy. I do still have a sense of that through the community I find myself a part of online. It's a wonderful network – and a useful one, for when things on the loom inevitably go wrong. We chat a lot.
"I also find myself in conversation with this lovely house. I feel textiles and homes, especially old ones, carry memories of daily rhythms in much the same way. When I sit down at the loom to work, all the thoughts racing through my head pour out through my fingers and into the weave. The rhythm of weaving is punctuated by my domestic schedule of tea breaks and dog walks, meetings, sketches, plant watering and washing: a working day that will have been mirrored by women over centuries, entangled amid the yarn.
"This schedule can be timed by the movement of light through the rooms here. At around 2pm, I have taken to sitting on the bench on the landing, waiting for the sun to stream in through the stained-glass window, lighting up the stairs to my studio with elongating shards of red. The show lasts for about 15 minutes but has been performed for far longer than I have lived. I often wonder how any times other residents have done the same and which of their domestic rhythms have been punctuated by that dancing light."
Further reading
Nancy Nicholson on Instagram