A Maker's Story: frills, fairytales and folklore with textile designer Cesca Dvorak
Guided by ancient symbolism and the power of plants, Cesca creates homewares built to last, printed with her trademark tendrils of rambling flowers and friendly spirits. Inspired by her mystical mark-making, we take a tour of her Gloucestershire studio
Photography

Paul Whitbread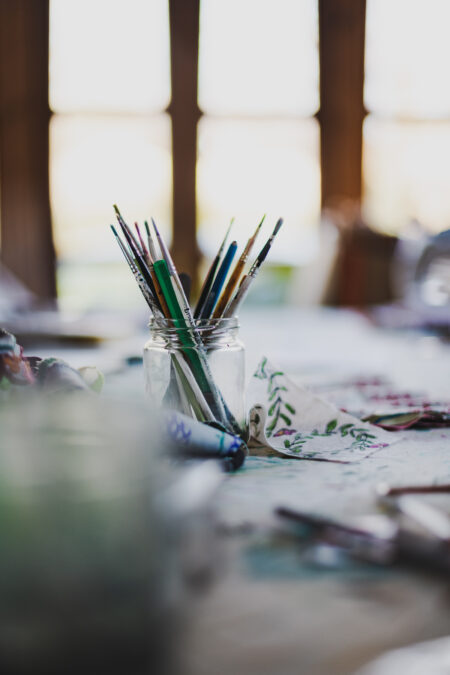 "The way I work is often extremely chaotic," laughs Cesca Dvorak, speaking from her Gloucestershire studio. She tidied up, she says, "but only a bit" ahead of our arrival. We're thrilled, we tell her, taking in the pentimenti of projects past that stipples the tablecloth, the cram-full pencil cases and brush pots, the pillowy squish of cushions shoved into steel shelves; all more to pore over and poke around in. "There is a level of mayhem that other people can't take, but I find comfortable," Cesca agrees.
The textile designer settled in Stroud in early 2018 with her husband and two children (their third was born in 2020). Prior to that, Cesca's life had been firmly rooted in London, where she was born, had studied and since forged a career as a costume designer. After 10 years of working on music videos, commercials, in film and in television, however, she began to grow frustrated at how few of her own ideas made it through to execution. Then, once she had children, the balance between parenthood with production schedules felt entirely out of whack. "Some women in that industry manage to make that work, but I never felt I figured it out," she says. "It was just no fun anymore."
Moving to Gloucestershire "opened up a massive new mental space, which had before been filled with the work I was so used to doing. It gave me a chance to find my own creative path," she says. Drawing on her experience with textiles and love of drawing, she doubled down on conceiving her own, inspired by her Polish heritage, love of symbolism and interest in nature. The results – printed, painted and woven homewares populated by smiling moons, fairytale toadstools and squiggly florals – are far from "no fun".
Cesca works quite intuitively, she says, allowing her hand – and the impish characters in her head – lead the way, "letting nature take over". Her organic approach and the free folksy spirit it engenders has won her many fans; her cushions, table linens, quilts and blankets are now stocked by Glassette, Folka and Meadows, among others. But their success seems to come as a surprise to the designer. "I'm just exploring, really, fiddling around and trying out new ways of making," she says. "Much of what I do is a consequence of playing around."  Whatever she's doing, it works.
"Before we moved to Stroud, I did a few printing courses and, when we got to Gloucestershire I joined a print-making cooperative, so I could start producing my own screen-printed textiles. That's when I got going on what I'm doing now, by selling to friends and on Instagram.
"I've always worked with textiles but after all those years of making costumes I couldn't ignore the pull of print. I am fascinated by all the different ways of making patterned fabrics – plus I don't have the patience required for the slow-burning techniques of weaving or knitting. I want something more immediate. Painting directly on to fabric, which I do a lot, gives me that thrill. It's direct, instant and full of impact.
"I want to make things that last. It's why I design textiles for the home rather than clothes, which historically have tended to be created in seasonal collections. While there is an increasing amount of people working towards longevity in fashion, the industry isn't there yet. I want people to buy my cushions, for example, and have them forever.
"My designs always start with drawings and, while I'll refine elements to make sure the motifs work as repeats, I am careful not to overwork them. Often the details that make it into my final designs come from my earliest rough drawings. I want the energy of those sketches in my textiles – and I find that printing is the best way to get that spirit across.
"My inspirations are quite wide-reaching. My mother's side of the family are Polish. When I was a child I spent a lot of time with my maternal grandparents, who were devout Catholics, in their house in London. It was filled with items that reflected their history and identity – all sorts of iconography and folk art. I try not to copy the floral motifs and simplified figures of those pieces – though they certainly feed into my imagery – but instead attempt to capture that folky way of making, embracing the imperfections of the handmade.
"That said, folklore – our ancient history, rituals and beliefs and the way plants were often at the centre of people's lives – does guide my imagery. Naturally intertwined with that is my interest in the New Age movement and other countercultures: punks, pagans or hippies, for instance. There's a nice alternative scene in this part of the world that I didn't see much of in London.
"All this comes across in my 'Spiritual Allies' blanket, with the smiling moon, star and spiral. Spiritual allies are, in my mind, little friends that guide you through the world. They crop up in my work a bit in different ways. They first appeared on a T-shirt I painted for my husband in 2017. It was meant to be a one-off and then in lockdown people kept on asking for more. The blanket, which is made out of recycled cotton and woven in a family-run mill in Lancashire, grew out of that.
"I spend a lot of time thinking about production and my supply chains. Everything I sell is produced in the UK, though the hemp, linen and silk I use often grown elsewhere; it can be more sustainable that way, when you consider the sunshine, water or warmth needed to grow natural fibres. Working out the true environmental cost of things is a minefield but it's worth it. Something that looks beautiful but has a big carbon impact isn't justifiable anymore. I'm now looking into buying repurposed wool from British sheep farmers to use as cushion stuffing, which would be great.
"I'm considering my next steps at the moment. Working out how to carry on exploring as an artist while producing more of the things that people want to buy so you can earn a living is the million-dollar question. I think if you start to think of it as a business first, you can end up shutting off ideas – and I feel like I've only just started. I have been asked to collaborate with an interior designer on a range of textiles, which is exciting, so maybe I'll head off in that direction at some point. But right now, I'm happy making, pursuing different ideas and seeing where they take me."
Further reading
Cesca on Instagram