A Lunch With: Xanthe Gladstone
Over a perfectly quivering spring tart, the organic grower, sustainable-food advocate and chef shares her tips for hosting supper clubs with style and spirit
Words

Grace McCloud

Photography

Ellen Hancock

Production

Harry Cave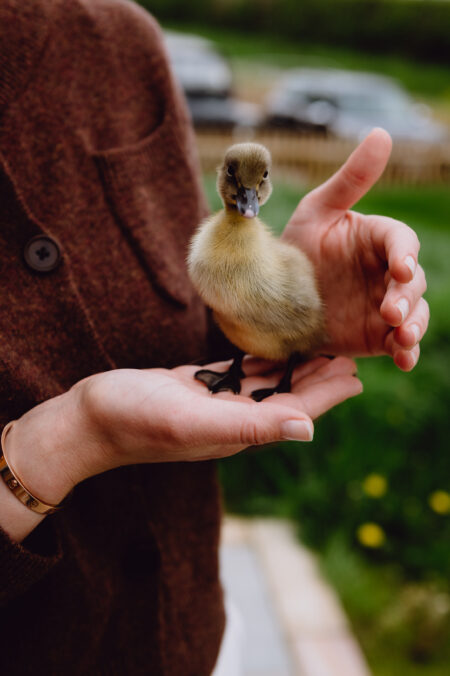 Xanthe Gladstone is rarely without a smile. It's appropriate given her name (from the Greek for bright, or yellow) that she should be so sunny. It wasn't always thus, she says. "In 2018 I was chained to my desk in London. I was miserable," she says. Looking back, she can pinpoint the moment she realised something had to give. She was working in food marketing and was on the train home from Cornwall, having gone to visit chef and grower Dan Cox's farm there. "I was wearing Blundstone boots and it was the first time they'd ever seen a spot of mud. I had a huge sack of organic vegetables that he'd given me and I just thought: This is what it's about."
"I realised I needed to be ploughing my own furrow – literally and figuratively," she laughs. Swapping London for life on the land, she booked on to a six-week sustainable-food course at Ballymaloe cooking school in Ireland to learn about growing, soil health and foraging, as well as to improve her classical cheffing skills. "And then I came back and built a garden here."
"Here" is Hawarden, an estate with a thriving farm shop, a restaurant, a wedding and festival business and a pub. Her entrepreneurial parents, who also run Glen Dye Cabins and Cottages in Scotland, have been helping to diversify the family estate and its land for the last 10 years.
As well growing entirely organic produce for the estate and planning its various seasonal menus, Xanthe manages the guest chefs that visit Hawarden to work on its myriad events. And, when she's not getting her hands dirty here, Xanthe is to be found prepping for one of her supremely successful supper clubs. This summer will see her cooking in the woods in Scotland, for a small festival in Copenhagen and for various London events. They are, she says, "exhausting and exhilarating" in equal measure.
"I'm very connected with the food I eat, which is lucky," Xanthe explains of her life in Wales. "I've been able to build that up myself, but the work I now do means I can share that with people." It helps not being in London, she says. "I miss it, but the pace and space here is different. I can live more slowly – grow my own veg, rear my own chickens, bake my own bread," she says, cradling a puff of fluff in the palm of her hand – a four-day old duckling. "I have such admiration for the people doing this kind of thing in London," she continues. "It's so impressive."
Yet, looking around at what she's created in the beds and greenhouses of Hawarden, we find ourselves equally impressed by this grower, grafter and champion of a greener way of eating. She may only have overseen four years' worth of seasons here in Wales, but already Xanthe is reaping the benefits of her labour – in all senses. Her eyes light up as she tells us how this year's asparagus crop, completely organically grown, is the best Hawarden's ever had, even when the estate was spraying its crops with pesticides.
In fact, she served some splendid spears for us on our visit, baking them into a golden tart (see recipe below). Laying a trestle table in the orchard and inviting some friends, Xanthe created a spoiling yet simple feast: piquant radishes and crunchy endive, white-bean purée and a salty salad sprinkled with marigold petals. While we tucked in, she shared some tips for the budding supper-club host. Read on…
When it comes to the food, keep it simple
"I know this might sound dumb, but don't try to pull off anything overcomplicated, or try to cook something you've never made before. Plan your menu around something you've made 20 times before – something you feel you could almost put together with your eyes closed. That's when you'll be your best as a cook.
"I used to think that people coming to supper clubs wanted something cool and interesting that they wouldn't make themselves, but in fact they're coming for the atmosphere and the experience as much as for the food. It's better to make something simple well than to mess up something impressive. Learn from my experience of trying to make fresh ravioli for 30 people having never done it before! They all stuck together and it was a disaster."
Organise, organise, organise
"While you want to keep the menu uncomplicated, it's worth remembering that you cannot over-plan the event itself. Second guess everything. Run through the menu until you're almost sick of it, work your way through every element of every dish and write a prep list for every single step: what you need to do the day before, the week before, the month before. And write a recipe for every dish; that way, when your head is all over the place on the day, you'll always have your coordinates. A recipe is a map.
"Practice plating your dishes too. So often, things look different to how you imagine them. You do not want to realise that on the day."
Ask for help
"You will need more hands than you think but, luckily, people are always keen to help with supper clubs. I can't tell you how many messages I get from people asking what they can do. It's such a wonderful world that people want to be part of, so make the most of that.
"Running a supper club on your own is backbreaking so, if you can, work with someone else. If you're into cooking, find someone interested in the hospitality side of things. Together you'll make a full picture. While you're planning dishes, they can sort out venues and menu printing."
Keep an eye on the numbers
"This is boring but important. Write all your costs down. Chances are, you won't make money on your first supper club. Or even on your first ten! But you still need to know what you're spending. Understanding what your biggest cost will be is incredibly useful, both for budgeting and for planning the next one."
Xanthe's recipe for asparagus tart
"Ideally you want to start the pastry a few hours before you want to bake the tart, at least. The key to really good flaky pastry is not to rush it and to cool it properly between every stage of the process. The other important thing is to make sure all your ingredients are really cold. Having cold hands helps!"
For the pastry
250g all-purpose flour
200g butter
3tbsp of ice-cold water
A pinch of salt
For the filling
560ml double cream
5 eggs
2 bunches of asparagus, cut in half
Olive oil
1 white onion, finely chopped
3 cloves of garlic, finely chopped
120g pecorino/parmesan
Salt and pepper
Firstly, make the pastry. Cube the butter and refrigerate it for at least 30 minutes. Measure out the flour and, once the butter has cooled, put both in a food processor and mix until combined. You want it to have the consistency of breadcrumbs, so try not to overmix it.
Add the cold water and salt until the dough has come together. Knead it for a couple of minutes on a floured surface, then cover with plastic wrap and put in the fridge for an hour.
After this time, bring the dough onto a floured surface and roll it out until it's about 1cm thick and about 3cm wider than your tart tin. Gently lower it in, using your rolling pin to help. Don't be disheartened if it rips – just use some extra dough to repair it. Leave some hanging over the side of the tart tin. Refrigerate for another hour.
While the pastry case is in the fridge you can prepare the filling. Whisk the eggs and add the cream. Season with salt and pepper and grate in the cheese, before mixing together.
Warm some olive oil over a low heat and add the chopped onion and some salt. It should take about 15-20 minutes for the onions to properly soften. Add the garlic, stirring for 2-3 minutes until it has softened, but don't let it burn. Separately, cook the asparagus in salted boiling water until tender (3-5 minutes, depending on their thickness) before adding them to the cream-and-egg mixture. Stir in the cooked onions and garlic and season with salt and pepper.
Preheat the oven to 160 degrees Celsius. Take the pastry out of the fridge and line it with baking paper. Then, on top of that, place baking beads – these will help stop the pastry from bubbling up while it's in the oven.
Bake it for 15-20 minutes until it's light golden. This stage is called 'blind baking' and it stops the pastry from breaking or going soggy when you add a liquid filling.
Once it's ready, take the tart case out of the oven and fill it with the asparagus mixture, spreading the spears evenly across the tart case.
Bake the whole tart again for about 20 minutes, checking it after about 15. Take it out when it is golden on the top and the egg mixture doesn't wobble.
Further reading
For more information on Xanthe's upcoming supper clubs, keep an eye on her Instagram