A Home with a History: Will Palin's Herculean overhaul of a Sheerness relic
Will Palin, CEO of Barts Heritage, is a true restoration man. While many find the revamp of a house hard enough, he has turned his hand to the revival of a whole dilapidated dockyard – and more besides
Words

Celia Lyttelton

Photography

Ellen Hancock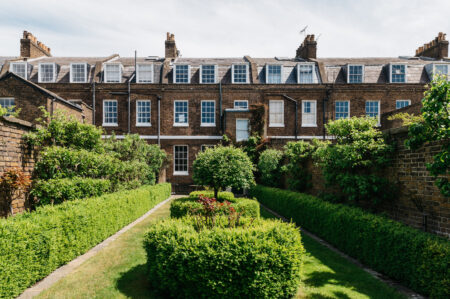 Some may think it sheer madness to have swapped the sophistication of Spitalfields for a house in Sheerness, on Sheppey. This island off the north Kent coast has suffered economically since the Royal Navy dockyard closed in 1960. However, Sheppey is not fully lost, thanks to the efforts of Will Palin, who did make that move. Will is a true restoration man, one who has helped save the Greek Revival dockyard built in 1810, as well as its leviathan church and terrace of naval officers' houses, which 15 years ago were sinking into swampy marshes – and obscurity.
Some islanders have never left Sheppey. And while Will doesn't hail from here, he is regarded as near enough a native. Sheppey-dwellers greatly appreciate what he is doing for the island and its much-needed regeneration. There is a huge amount of energy and determination to improve things here.
Will (son of Michael, comedian, author and Python) is an architectural historian and writer, an indefatigable heritage campaigner and a conservation specialist. His self-effacing demeanour belies a man of adamantine will. He has saved many buildings and artworks over the decades, notably James Thornhill's Painted Hall in Christopher Wren's Greenwich Naval College. He is secretary of Save Britain's Heritage, chief executive of Barts Heritage, a trustee of the Sheerness Dockyard Preservation Trust and an erstwhile one of the Spitalfields Trust.
The approach to Will's house is mysterious. One emerges from an industrial wasteland – all wind turbines and belching smoke – to encounter a church with soaring Ionic columns, guarding the entrance to Naval Terrace and the nearby dockyard. It's almost magic – and it is here that Will walks us through his life and work in this near-forgotten corner of the country.
"I first came to Sheppey in 2007. I was a trustee of the Spitalfields Trust at the time, which had recently overseen the restoration of Shurland Hall, a Tudor house that's like a mini Hampton Court Palace, on the other side of the island. I started to explore the place and was astonished when I came across the dockyard. It was as though a slice of Bloomsbury had been dropped into the marshes. It was beautiful – and rather haunting.
"I was single and living in a Huguenot house in Spitalfields then, but I came across this house and decided to buy it. It was going to need a complete overhaul, but quite a lot of original details had survived – the locks were intact, for instance, if a bit grubby. I sent them to a locksmith in Scotland who repaired them. They came back gleaming and polished.
"That said, the house was shrouded by neglect. The basement had been a nightclub for the stevedores and was covered in red paint. We stripped the concrete floor and found flagstones beneath, while upstairs I put in floorboards, to make the dining room more welcoming.
"Once upon a time, everything in the house would have been as ship-shape and well maintained as on the boats. All the architecture here is first-rate, built by the government around the time of the Napoleonic wars. No expense was spared; all the houses were architect-designed, solid and beautifully detailed. Upstairs, for instance, rope soaked in lime was hammered down in between the boards to create a barrier against sound and draughts. These houses would have been quite thermally efficient for their time.
"Naval officers would not have wanted to move masses of furniture in and out, so the houses came with lots of built-in things, including the chests of drawers built into the alcoves of the top bedrooms. The cupboards, also constructed in situ, are very well designed to let air flow around inside, but many here needed replacing; I copied the original ones. All their doors – and others around the house – have brilliant finger plates. In the basement, these are simply painted on in black – a superbly practical approach to protecting against dirty prints.
"The rest of furniture came from house clearances and skips – a reminder that you can do amazing things with very few resources. The great clock on the landing predates the dockyard. It was a public one from Sheerness – probably from a chapel. I bought it from my uncle, a retired architect and clock dealer. He called me one day and said: 'I've found this clock – I think you need to have it!'
"I believe in keeping traditional kitchens, like this one, in the basement, which is where they always would have been. I love the simplicity of an old-fashioned kitchen. It's also a lot cheaper than a modern one and I find original fittings more convenient than contemporary ones too. I like a big sink and being able to find pots and pans on hooks and shelves, rather than hunting for them in endless units.
"The restoration of the house was the start of a wider rescue project. Within the walls of the dockyard itself was a larger group of Georgian houses owned by a developer. Gleaning my contacts through Spitalfields and working with the Spitalfields Trust, I helped assemble a group of buyers (some who had never even been to Sheerness!) and together we bought out the developer and rescued the whole site.
"The biggest challenge of all, however, has been the rescue and repair of Dockyard Church, which suffered a catastrophic fire in 2001 having been deconsecrated in the 1970s, leaving a forlorn shell. We set up the Sheerness Dockyard Preservation Trust and persuaded the local authority to organise its compulsory purchase from a developer who was sitting on it. It's due to reopen soon as a mixed-use building with start-up hubs for young professionals. It will also display an 148sq m architectural model of the dockyard complete with hydraulics, made in the 1830s and one of the world's largest.
"This island is perhaps not the archetypal seaside retreat, but it has a lot to offer. Through the church project we are helping to give Sheppey, so badly neglected, some pride back through heritage-led regeneration. These buildings deserve to be loved."
Further reading
The Sheerness Dockyard Preservation Trust
Will Palin on Instagram