A Home with a History: Sue Kreitzman's multicolour manifesto for life
Beige should carry a warning, says the outsider artist, whose kaleidoscopic Cambridgeshire home proves that a bright life can never be boring
Words

Grace McCloud

Photography

Ellen Hancock

Production

Harry Cave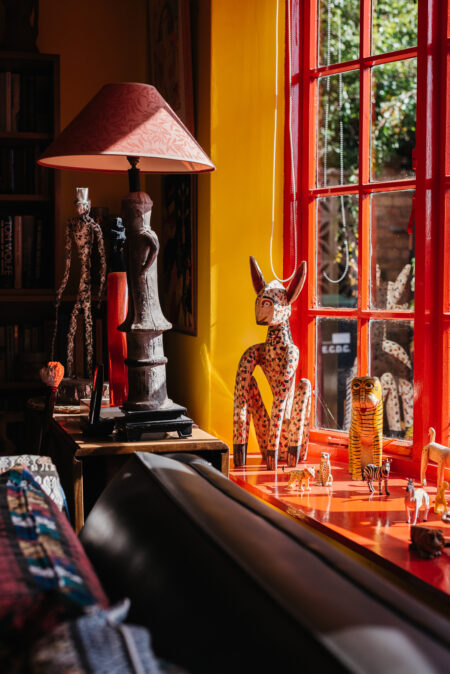 "Get ready," Sue Kreitzman cautions, settling into a deep red-leather armchair. "There's a lot to talk about."
She isn't wrong. The artist, New York born and bred, has packed a lot into her 82 years. A gifted oboist, she went to university on a full scholarship, before abandoning music to become a teacher. Working in a deprived school for Black children in Atlanta as desegregation was coming to an end, she kickstarted a programme that eventually saw children across the entire state of Georgia receiving free school meals. As a cookbook author, she published an astonishing 27 titles, becoming a household name and television personality in the process. And as an artist – a career she accidentally embarked upon in her 60s – she has become a dazzling figure in the 'outsider' creative scene, her wild mermaids and goddesses speaking to an idea of furious, fearless femininity. "People think old women disappear," she says. "We don't. There is goddess power within us all," adding: "Though I'm not really an old lady; I'm just cleverly disguised as one."
Writing about the house near Cambridge she has shared with her husband, Steve, a biomedical researcher, for the last 40 years, seems almost obtuse. For this is an entirely visual place, its poetry coming from the astonishing amount of colour here, and from the myriad objects and assemblages on display in every corner, as much as from its history – though it has that too: it's thought to have been built for a notoriously guillotine-happy enforcer of Edward IV.
From the collection of Native American totem poles to the garlic-themed paraphernalia in the yellow dining room, the multicolour mirage is entirely Sue's doing ("Steve lives in his head"). This has been the case in every house they've lived in, both here and in the States. "All artists are hoarders," she says. "It's a heavenly way to live – though I couldn't do it without my wonderful housekeeper, Julie, who also happens to make the most brilliant rag rugs." Sue's flat in Bow, east London, similarly needs to be seen to be believed.
We could talk to Sue for hours. And, when we visit her on a bright autumnal day, that's exactly what we do. In fact, you need hours to chat to this shimmering miracle of a woman. With a comet streak of magenta in her hair and embellished Crocs on her feet, her whole being hums and thrums with life. She is a storyteller like no other, an artist of startling singularity, a life-lover and a bringer of joy – and the world is brighter for her being in it.
"I burst into art when I was correcting my 27th and final book. It was a big epiphany. I was in my study in London, correcting proofs – something I'd always enjoyed after the labour of writing – and I was in this beautiful, relaxed zone. And my hand picked up a marker and started drawing a mermaid, with a fish for a hat and snakes for hair. I looked at the mermaid, and the mermaid looked at me; it was like she was in charge. And from that moment, my life changed. I became a different person.
"Cooking had always been my passion, but suddenly something had taken its place. I became completely obsessed with drawing. I drew all day and often all night. One day, I saw some very cute-looking bottles of nail varnish in neon colours at the market. I must have had some sort of mental short circuit, or maybe it was the menopause. Maybe the muse just bit me in the bum. Whatever it was, I started painting with them, which was fantastic. Now I'm a grown-up, I use acrylics, but I always finish with a layer of nail varnish – it's so shiny and sparkly.
"After the nail-varnish paintings, I moved on to Memory Jugs, which are assembled artworks using what the artist Philip Guston called COTS – Crap off the Street. Now, I'm obsessed with neck shrines, like the one I'm wearing. I've made more than a thousand. Sometimes they're a shrine to something specific ­– to Niki de Saint Phalle, for instance. Sometimes they're just a shrine to kitsch. But they're always a shrine to cultural sharing, mashing up found objects and symbols from all over the world. I like to give them to my friends – I never sell them; I don't make art for money – but you have to be brave to wear them.
"You also have to be brave to be an artist. Like writing, it's a powerfully visceral process. Because it doesn't come from the head or from the heart, it comes from the gut. It comes from the very centre of your being – and often you don't know what will come out. Making art is about trying to access the inner passion that's within us all, which is buried by years of being an adult.
"Becoming an artist surprised me. I always loved colour, even though I'd grown up in a dull, fairly colourless home in Long Island. But I knew from my experiences at school that I was crap at art. I always flunked it. And my parents, being a certain generation of Jewish parents, expected me to be good at everything. They didn't want me to become an artist. They didn't even care if I was good at art or not; they just did not want to see a fail mark on my report card. It still amazes me that this is where I've ended up. I've just sent 50 pieces to Baltimore's American Visionary Art Museum, which is the best outsider art museum in the world. I can't believe it.
"When we moved here, the house was awful. There was horrible carpet everywhere. Things were painted either sickly green or beigey yellow. We rented it for a year and I wasn't allowed to touch it, which was terrible. I don't know if you can tell, but I've got quite garish tastes. I need contrast! I need brightness! We repainted the house as soon as it was ours and, while we've gone over it a few times, it's stayed the same colours all these years. It makes me sad that someone will probably rip out the kitchen one day. I particularly love that room.
"Steve loves my work, but he's not a visual person, so he's happy for me to decorate in the way I like. It's always been that way, from our first apartment together in New York City, in 1962. We paid $75 a month and, when it needed repainting the landlord said he'd have to charge $78, so I decided to do it myself.
"I truly believe that life is never boring when there's colour. It won't necessarily always be good, but it won't be dull. My motto in life – and it's one to live by – is: 'Don't wear beige. It might kill you.' And I mean that from the bottom of my heart. Some people have a thing about spiders, some about heights. I have a thing about beige. It makes me ill. It leaches the soul out of me. It's the colour of death. It's awful."
Further reading
Sue Kreitzman on Instagram