A Home with a History: Matthew Rice's quiet transformation of a tumbledown farmstead in Oxfordshire
In so parlous a state was the artist and author's 14th-century house that, when he was doing it up, moles popped up through the floor. But this "looker-after" of buildings was undeterred. Slowly and unshowily he has teased this ancient place back to being loved, determined simply to make it "nice instead of nasty"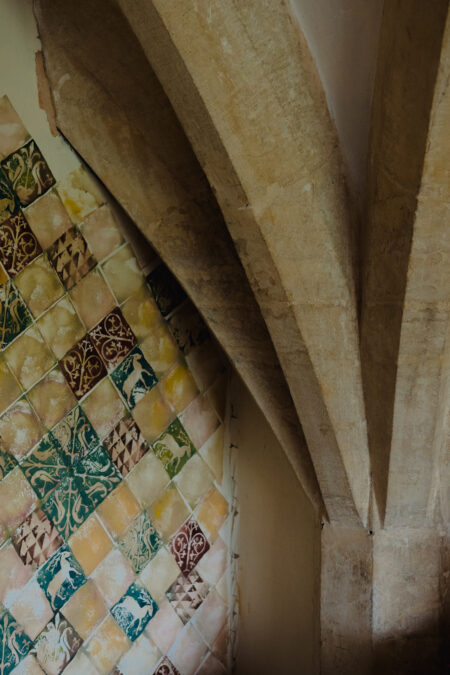 Matthew Rice is flicking through his watercolour sketchbooks. "Oh, look!" he says gleefully. He passes one, hard-bound, its once-damp paper wrinkled stiff. It's open at a page showing camels, a stone arch, sunlight. "India?" we enquire. But Matthew has moved on to a crop of glutting courgettes, sending them our way again before alighting upon a page with views of Venetian roofs. Reams and reams, memories and moments.
The author and watercolourist is one of life's great recorders. This trait has kept him in work over the years as an illustrator – for Country Life; for his ex-wife, Emma Bridgewater's, fantastically successful pottery, which they ran together; for his own much-admired books on architecture. But one gets just an inkling from the shelves of serried spines in his study that there's more to Matthew's incorrigible jotting than mere professional ambition (his work ethic – doubtless inherited from his mother, illustrator Pat Albeck, and father, stage designer Peter Rice – does have something to do with it too). Does he feel compelled to document? "I suppose I do," he replies. "It forces you to look."
We're at home with Matthew at Ham Court, in Oxfordshire's Bampton. It's a handsome higgledy-piggledy confection, fleshed out from the remains of a half-built castle from the 14th century, which was subsequently sliced into separate farmhouses in the 17th before being converted back into one in the 19th. Matthew and Emma bought it in 2011 and slowly set about sorting it out – taking down ugly modern barns, moving piecemeal between outbuildings as they patched up others. "It was pretty basic stuff," he says. The main house had no heating, no bath, no floors. "Fabulous for our teenaged children's wipe-out parties," he adds, "but it had fallen on hard times."
In the near three years since his divorce, however, he has doubled down on doing it up, having already converted one of the lovelier barns into a workshop and studio that he (and occasionally Emma) works in; it's also an office for Fool's Delight, the circus run by their daughter Lil. But, he insists, the careful changes he's made to the house itself have not been extensive – unlike in the glorious garden, which he established from scratch. "On the whole, compared to anyone else ever doing such a project, I have done virtually nothing except make it nice instead of horrible."
This desire to celebrate buildings steers much of his creative work too, as leafing through Rice's Architectural Primer, Rice's Church Primer, Rice's Language of Buildings or any of his guides to Oxford, Venice or the village buildings of England will reveal. He is passionate about vernacular construction and of buildings in general. "We have our best foot forward with architecture," he explains. "Without sounding like too much of a poser, I really do believe that buildings express our aspirations most full-bloodedly," he says. So what of this place, then? Does it reflect his own? He pauses. "I hope so. In a quiet sort of way."
"Bampton Castle, as it was known in the 1320s, was built for a man called Aymer de Valence, the Earl of Pembroke. At that point he lived in Goodrich Castle in Herefordshire, which Edward II had decided was too far from court, so in 1324 he set about getting a license to build here. The trouble was, he was in a spot of debt, having been kidnapped for a vast ransom in 1317. That, combined with having no male heirs to bring money in, meant finishing things proved rather tricky… I think it's been built on about nine times since then.
"There are drawings from 1660 that show a huge castle wall still existed then, but by 1820 that was just a shred. So at some point between the end of the 17th and the beginning of the 19th it was ransacked for stone to build other houses. By 1860 it was a decent, if very odd, farmhouse owned by Oxford's Jesus College, which was how it was when Emma and I bought it, albeit with more concrete and yellow tiles…
"We left it as it was while sorting out the barns, until I began to work on it properly a few years ago. While of course it looks very different to how it did then, it's not like I've knocked it about very much. It's amazing how long coaxing a house back to being loved without changing it takes. It's very easy to knock walls down and build new ones; it's altogether harder to look at each rotten windowsill and think: 'How do I make that nice instead of nasty?' But I've loved doing it. I really enjoyed camping in it to see what was needed. I didn't love when the moles – actual moles! – burrowed through the earth floor in the parlour though…
"I live on my own, so I needed the house to work for one person. But one day I might not live alone and I also have children, who are starting to have their own children, so I want the house to work for 10 or 20 people, if it can – even if most of the time it holds fewer. There's no point having a house designed for a busy Christmas; what will it be like for the other 364 days? You have to plan for the status quo.
"What I've landed on is a house that is at its best at busy weekends, with eight or so people in it. I've got a kitchen you can cook in while people chat to you, a really cosy sitting room within shouting distance, a parlour and a smaller dining room with a fire and a sofa for the dogs. The grand drawing room is of no interest to me, really. It gets used about five times a year, it's freezing, full of last year's wrapping paper and needs redecorating. But what's the point in doing that? I just turn the lights down and light candles so it's all very moody and nobody can see properly.
"Because the house is Grade II*-listed, everything I've done is quite non-committal. I didn't use an architect, so I've done it all myself carefully. I've approached each room by first figuring out how to make it work. I was admittedly lucky in that the bones are beautiful. The medieval stone vaults in my bedroom, for instance, are still in very fine condition, as are the windows – they just needed some proper glazing to stop them leaking.
"While having all this space is a great luxury, it does not make sense in today's world for it to just sit here, which is why I operate it as a business: my daughter runs her circus here; I let some of the studio to the florist Willow Crossley on occasion; people rent the cottages surrounding the house. The house and its buildings work hard so as to make financial sense, as they should. In fact, old houses have always worked – that's how they survived.
"It's also where I work, doing illustrations or running art classes. I particularly like the quieter moments – painting by lamplight late at night, either in the studio or my study in the house; refilling my palette, unwrapping each new tablet from its foil like a little chocolate. I love figuring out how to get the colour of a roof just right, or getting the line of something spot on. I find buildings endlessly interesting. I do think they are just the best things. When you build a house, or work on one, it really is an expression of who you are, what you want, what you like. That's the appeal of vernacular architecture to me; the pink someone chose for their render in Suffolk, the arrangement of the striped honeycomb bricks of a wall in Northamptonshire – all these things say of the individual that chose them, 'I am a person of this village.' I find that rather profound.
"This house is quite the opposite. It's a non-vernacular building originally designed as a status symbol, subsequently rather fiddled about with. I've left my mark on it too, in a not-very-grand way. My recent addition is a green-oak tower in the garden, from which you can survey all the greenery below you, which was built by Gabriel Langlands. It's quite big, so I suppose it reflects some aspirations of gentility. But when I was designing it, above all else I wanted it to work with the historic fabric around it. If someone in the future were to analyse this place, I would like them to say: 'He was a looker-after of buildings.' I hope they will."
Further reading
Matthew's next watercolour course will run 7-8 June, and his next sketchbook course on 14-15 June. He will also be opening his garden to the public on 21 May, 11 June, 2 July and 10 September, hosting ticketed supper clubs and private views the night before each opening. For more information, visit his website or Ham Court on Instagram
Fool's Delight will be in residence at Ham Court 21-31 July. For more information, visit the circus on Instagram
Matthew on Instagram