A Growing Concern: transforming a walled garden for contemporary purpose at Water Lane
When Nick Selby and Ian James took over the Kentish garden, they not only saw it as a personal project, but also as a chance to restore a Victorian relic for a 21st-century audience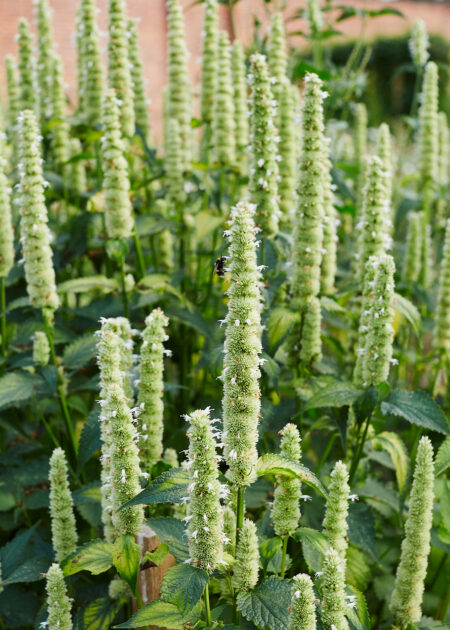 It's a Friday afternoon at the apex of the second heatwave of the summer. The sun beats down overhead, yet at Water Lane walled garden a reprise is granted by the gentle breeze that meanders through the tops of the gargantuan brassicas and pastel-hued sweet peas. From the shady vantage point of the tented restaurant, colour and tranquillity reigns supreme. "You absolutely must try the roast-peach granita," we're told, and it appears with a flourish at the table. 
It was never the intention of Nick Selby and Ian James to transform a Victorian walled garden into a hotbed of gastronomic and horticultural activity, but this mission found them. Amid the Covid lockdowns they, like so many others, realised that they wanted to escape from the melee of London. In their case, it was also a departure from their deli/grocery business, Melrose & Morgan, in order to follow Ian's flower-farming dreams. "I had a vision of spending time with nature," he recalls, "of working with flowers in solitude."
Yet when they came across the plot now known as Water Lane, that vision shifted slightly. As the garden was part of a residential property, Nick and Ian – utterly enamoured – decided to up sticks and take over the place. The Grade II-listed garden that had captured their attention once formed part of the Tongswood Estate, which originally belonged to Charles Gunther of the Oxo stock-cube fortune. Gunther invested heavily in his walled garden, employing some nine horticultural hands to work the 1¾ acre plot. Since its inauguration in around 1890, the garden changed hands many times before it fell in to Ian and Nick's.
Since taking over in January 2021, the couple has embarked on a long-term restoration project. They've opened an on-site restaurant and shop, repurposed the 13 greenhouses built in 1904 and are implementing new planting methods, as well as running workshops. Busy they may be, but they've found time to talk us through their tips for coaxing a plot from the past into the present.
Recognise that gardening is a long game
Nick: "It isn't possible to just look at two seasons and predict what will happen in the future. There are so many variables, which only become clear over time. This garden in July 2022, for instance, is completely different to what it was in 2021. We've since trialled tomatoes in pots, as well as working with new varieties of veg.
"In terms of flowers, we're now at the balance of two-thirds perennials and one-third annuals, which feels about right from both a labour perspective and in terms of sustainability."
Ian: "It also gives us more interesting flowers to work with and the opportunity to provide florists with new plants."
Use historic knowledge to deal with future problems
Nick: "The more time that we have spent in the garden, the more we have come to understand it. The Victorians that built it knew exactly where the sunlight fell and used it to create a natural form of climate control. So many aspects were designed to be self-regulating and everything is in its own place for a reason."
Ian: "They planted peaches on the warm south-east-facing walls and used curtains to protect delicate fruit like raspberries when it rained. They even installed a natural water-harvesting system that pumped from the nearby lake, for use in times of drought. We plan to update this knowledge with a 21st-century irrigation system that uses water harvested from the roofs of all the glasshouses, which only has to be used 30 minutes each day to be effective."  
Balance the old with the new
Ian: "We have ordered handmade blinds for the greenhouses, new versions of the Victorian ones, to protect the plants from excessive sunlight. They also provide shelter for people when we host workshops or private dinners in there."
Nick: "We feel a responsibility towards retaining details that, even in their dilapidated state, allow our guests to feel a strong connection to the past, such as the peach case, a glasshouse built specially for nectarines and peaches. People are often afraid of change and our role is to balance restoration with innovation."
Innovation is the key to sustainability
Nick: "For historic methods to work, we have to adopt new approaches. For us, that means working towards principles of self-sustainability but without being dogmatic. We're committed to using as much produce from the garden in the restaurant as possible, for instance, whether that's crystal cucumbers or nasturtiums."
Ian: "Sustainability drives our approach in the garden too. One of the first methods we tried was the no-dig policy, which, after being revolutionary about five years ago, is now almost mainstream. The no-dig approach involves growing above ground, so as not to disturb it, using compost on top  – but, as we learned with the compacted clay soil here – it's not always the most effective method!"
Nick: "Last year, our carrots couldn't burrow into the soil and so we had some very splayed vegetables. At first it was funny, but it got a little tedious after a while. We needed to find a new approach, so we started focusing instead on soil health – and began began breaking up the compacted soil in some beds to help with our root-based crops.
Ian: "At the moment, we're working on creating feeds and fertilisers using what's around us: fungi, for instance, or herbs. In a way, it's like we're going back to the more balanced processes of the 1890s when the garden was founded, before horticulture's move towards chemical intervention."
Share knowledge
Ian: "We're using this space so that people can feel inspired to do something at home. We have three founding pillars that guide what we're doing at Water Lane: food, friends and flowers. When it comes to friends, we want to build a community. Last year, we collaborated with SSAW Collective, looking at the impact that the astrological almanac has on gardening methods; most recently, we've embarked on a long-term planting and development plan with the landscape and garden designer Jo Thompson, and a renovation project with RX Architects.
"We also seek inspiration in our community. We are always planning new workshops to share ideas and extend our network even further. People can pop by just for the day and while away an hour or two, wandering around the garden or stopping by for lunch. Just make sure you finish with the granita."
Further reading
Water Lane on Instagram
Fancy a tour of Nick and Ian's London pad? Our sister site, The Modern House, paid them a visit in 2019, which you can see here.