A Growing Concern: glorious festive greenery with Butter Wakefield
Though your flowerbeds may be hibernating, it doesn't mean you have to forgo blooms and bunches in December. Here, the garden designer, whose bountifully bedecked home in west London is a hymn to the holiday season, talks us through her pointers for winter plant-life – and all without a poinsettia or holly sprig in sight
Words

Grace McCloud

Photography

Ellen Hancock

Production

Harry Cave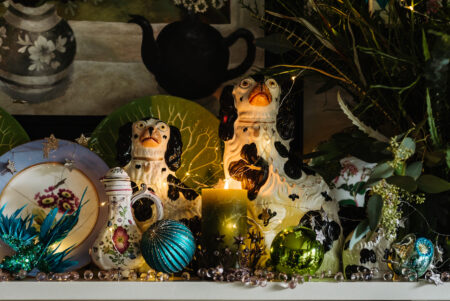 "Oh, I do love Christmas!" cries Butter Wakefield, unravelling ribbons spilling out of her hands. Such is her enthusiasm that Inigo half expects her to throw them up to cascade like streamers. We're only a little disappointed when she doesn't.
At home with Butter in Shepherd's Bush, west London, you'd be forgiven for thinking it was the big day itself. Stockings are hung, the table is laid, the candles are lit. Next to a flickering fire sits a very warm Wafer, Butter's much-adored border terrier. Baubles jumble in ample vases and everywhere – everywhere ­– are bunches of greenery, stuffed into buckets and princely in their bounty. 'Tis the season, after all, of generous plenty.
Butter, who won gold at RHS Chatsworth Flower Show in 2017, wasn't always known for her green fingers. In fact, she came to garden design in her 30s, after leaving a job at Colefax & Fowler when she had the second of her four children (though, she tells us, she does come from a "very long line of brilliant gardeners"). Pregnant with her second baby, Butter found herself unsure of her next steps. "After concentrating solely on the inside of our gorgeous Georgian cottage in Brook Green, it slowly occurred to me that the garden and the outside also needed love and attention. It then just came to me – garden design and working outdoors was something I wanted to learn more about and possibly do professionally."
She started designing and drawing, always by hand, and "just worked away, learning, learning, learning." In 1994 Butter signed up for a year-long diploma course in plants and plantsmanship at the English Gardening School, where she learned all about trees and plants and how they grew best. But wasn't until 2013 that Butter – recently divorced, faced with a lull in work and feeling very much "in my autumn" – undertook a year-long course at the London College of Garden Design. It was the right move; in the years since, she's barely stopped for breath – though she still can't use CAD. "I never could!" she says. "Most of my design work still begins with pen and paper. But that's why I work with such a brilliant young computer-savvy team."
Has her training as a designer of rooms helped her as one of gardens? "Yes," she replies without hesitation. "It's given me an understanding of texture, colour, pattern and scale. All the things that you need on the inside of a house, it turns out, also apply to the outside." And so how does that work when you want to bring the outside in, not least come winter? Butter's eyes light up as she gestures at the abundance around us. "Let me show you."
BUTTER WAKEFIELD'S TIPS FOR FESTIVE ARRANGEMENTS
Go green…
"In winter – and in particular when decorating your house for Christmas – it's all about the greens. But don't worry that just because you're short on blooms, your arrangements will be boring; you just have to approach your bunches differently.
"I buy my greenery from Porters Foliage at New Covent Garden flower market; it's worth getting up at the crack of dawn for. There's such a wealth of things on offer – cypress, pine, phillyrea, virburnum, box and fir. There's also all the different types of eucalyptus, which I love for their perfume and silvery sheen. 'Baby Blue' is my favourite; you only have to touch it gently and your hands will be left with its heavenly menthol scent. I also adore the eucalyptus pods too, which help to create a more three-dimensional design."
… Then add colour
"Pink heather and pink waxflowers are the only flowers I really like putting in winter arrangements. You can get white waxflowers, but the pink ones – for me – are prettier by miles. It's just the most perfect soft shade. And they last forever. You can forget about them entirely and they'll last for weeks.
"You don't necessarily have to add colour into your arrangements; think about your displays as a whole: baubles in vases on the mantlepiece; coloured candles in twinkling sticks; glinting tealights, bunches of pink peppercorns – there are so many ways you can brighten things up that don't involve out-of-season flowers. When it comes to Christmas itself, one of my favourite things to do is wind a cascade of colourful ribbons through the branches of foliage. It couldn't look more festive."
Play with your container
"Don't feel limited by plant pots. By using an array of different containers you can really explore scale with your arrangements. I always have one or two rusty old buckets lying about, for instance, I group them together by the front door to welcome friends and family in, but they work inside too. If I see one, I'll nearly always buy it – they're incredibly useful all year round.
"Small receptacles, like antique china mugs, work well on tables. I love collecting them. I've also been known to use a huge old colander to plant up winter-flowering bulbs or hellebores. If you've got a pretty one, line it with a bit of plastic (a piece torn from a bin bag works well), before poking a few holes through. Add some drainage – gravel, for instance, or some broken pottery – and some potting soil, then plant your bulbs."
And on that note…
"Bulbs are your best bet for winter flowers, as you can grow them inside. I love a crowd of potted hellebores, with their romantic drooping heads, and paperwhites, which are a type of narcissus with the most gorgeous scent.
"After you've planted your bulbs as above, cover the soil with vibrant green moss. I buy most of mine from Porters. There are various types available, but I think carpet moss works best, while I use sphagnum moss to line the metal rings when making my wreaths; it has a wonderful full fluffy texture.
"Before the paperwhites get too tall, support them with beautiful lichen-covered larch branches, which makes a fabulous frame for them to grow up through. Wind a few wires of twinkly lights through for extra joy. And then, when the paperwhites are over, swap the bulbs over for early-flowering crocuses or a charming little narcissus called 'Snow Baby' to keep you going through the darkest day in January and February."
Further reading
Butter Wakefield Garden Design
Butter on Instagram